Sarmat, Russia's new 'peacekeeper,' can hit targets anywhere on the planet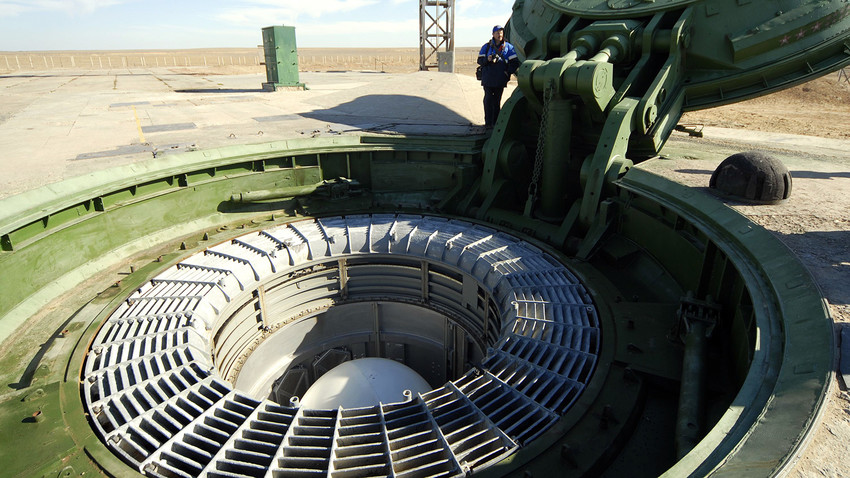 Intercontinental ballistic missile RS-18 "Stilet" at Baikonur cosmodrome before a test launch.
Sergei Kazak/TASS
Known in the West as "Satan-2" because it will succeed the previous ICBM known as "Satan" (R-36M2), the Sarmat rocket has just completed the full range of factory tests and is now ready for a test launch, possibly as early as October.
Meet the new 'Satan'
A couple of words about the new weapon – it has a total weight of 100 tons, and carries a payload of 10 tons, which means it can be outfitted with 15 MIRV ballistic missiles, each with a yield of between 150 and 300 kilotons.
The warheads will be arranged into a "grapevine," and upon reentry into the atmosphere each vehicle separates and continues on toward its target according to the warhead's programmed algorithm.
All these innovations make the Sarmat the largest and heaviest missile in the world, and one of the most devastating, serving as an effective nuclear deterrent that will help foster peace and stability.
Besides that, the missile can destroy targets at a distance of up to 17,000 kilometers (10,200 miles) and will be able to hit targets on the other side of the planet by flying over the South Pole.
"A potential adversary won't expect a blow from Russia by way of the South Pole. So we will force him to spend considerable amounts of money to build a new line of defense, which will still be ineffective. This allows Russia to feel more free in its foreign policy," said Vladimir Evseev, CEO at the Center of Social and Political Studies, adding that this weapon is necessary in order to replace its aging predecessor, the R-36M2 Voevoda (Warchief).
"This ICBM spent the last 30 years preventing possible conflicts and giving us peaceful skies," the expert continued. "It's time for this rocket to retire and to pass the baton to a new generation."
Not all experts, however, are so optimistic because they believe it will take more time before we see a test launch at the Plesetsk military base.
"These tests have repeatedly been postponed this year, and it can happen again. The development of such projects is the result of close cooperation between about 500 companies. Therefore, it's necessary first to conduct the maximum number of ground tests, which, it seems to me, have not been completed yet," said Vadim Kozulin, a professor at the Academy of Military Science.
Once the Sarmat ICBM is incorporated into military strategy, it will be deployed in Eastern Siberia near Chita, which guarantees that they can't be intercepted from the sea, and which will guarantee a safe launch.
"The total number of Sarmat missiles will reach 154, which is the number of silos left by Voevoda that served as a peacekeeper for the past 30 years," Kozulin added.
If using any of Russia Beyond's content, partly or in full, always provide an active hyperlink to the original material.