Year 2032: How will the Russian tank army look like?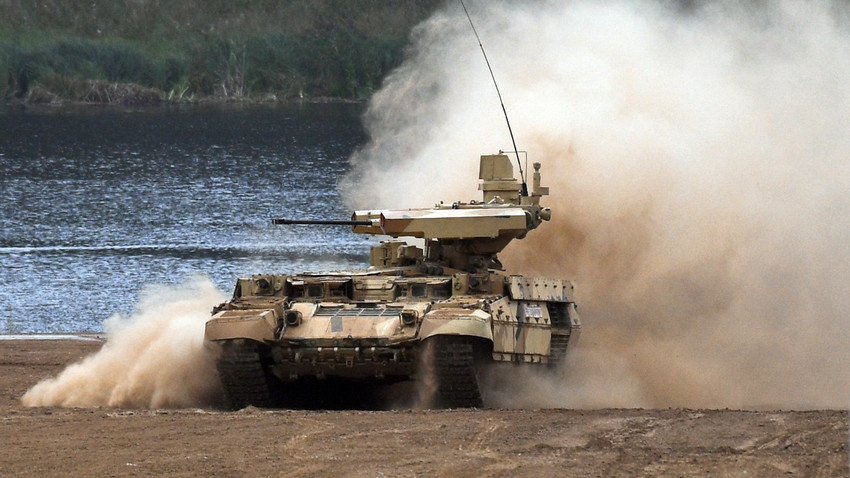 Terminator-2 armored tank support combat vehicle during the exhibit of modern prospective armaments and military and special equipment at the ARMY 2017 International Military-Technical Forum at the Alabino training ground.
Grigoriy Sisoev/RIA Novosti
Warfare has changed significantly in recent decades, and most tactical goals are achieved by aviation and precision weapons, such as cruise and guided missiles. Some Russian military experts even suggest that tanks are vestiges of the 20th century, and in 50 years they'll disappear entirely from the battlefield, along with infantry and heavy armored vehicles. 
Russian generals, however, don't agree with that assessment.
Army General Dmitry Bulgakov, Russia's Deputy Minister of Defense, has stated that the fighting in Syria proved that despite the awesome power and achievements of tactical bombers and cruise missiles, victory can only be fully secured with ground troops.
"Tanks will remain one of the main weapons in modern warfare because only after capturing and holding a strategic position is it possible to talk about an operation's success," said General Bulgakov, pointing out that armored vehicles remain the only weapon that give an army the possibility to immediately defend military personnel from an advancing enemy.
Russia's rearmament and military modernization program runs to 2030, and so the tanks that Russia makes today will be protecting the country 15 years from now. What can the Russian army expect?
For starters, there's a newcomer this year - a new support tank unit called BMPT "Terminator."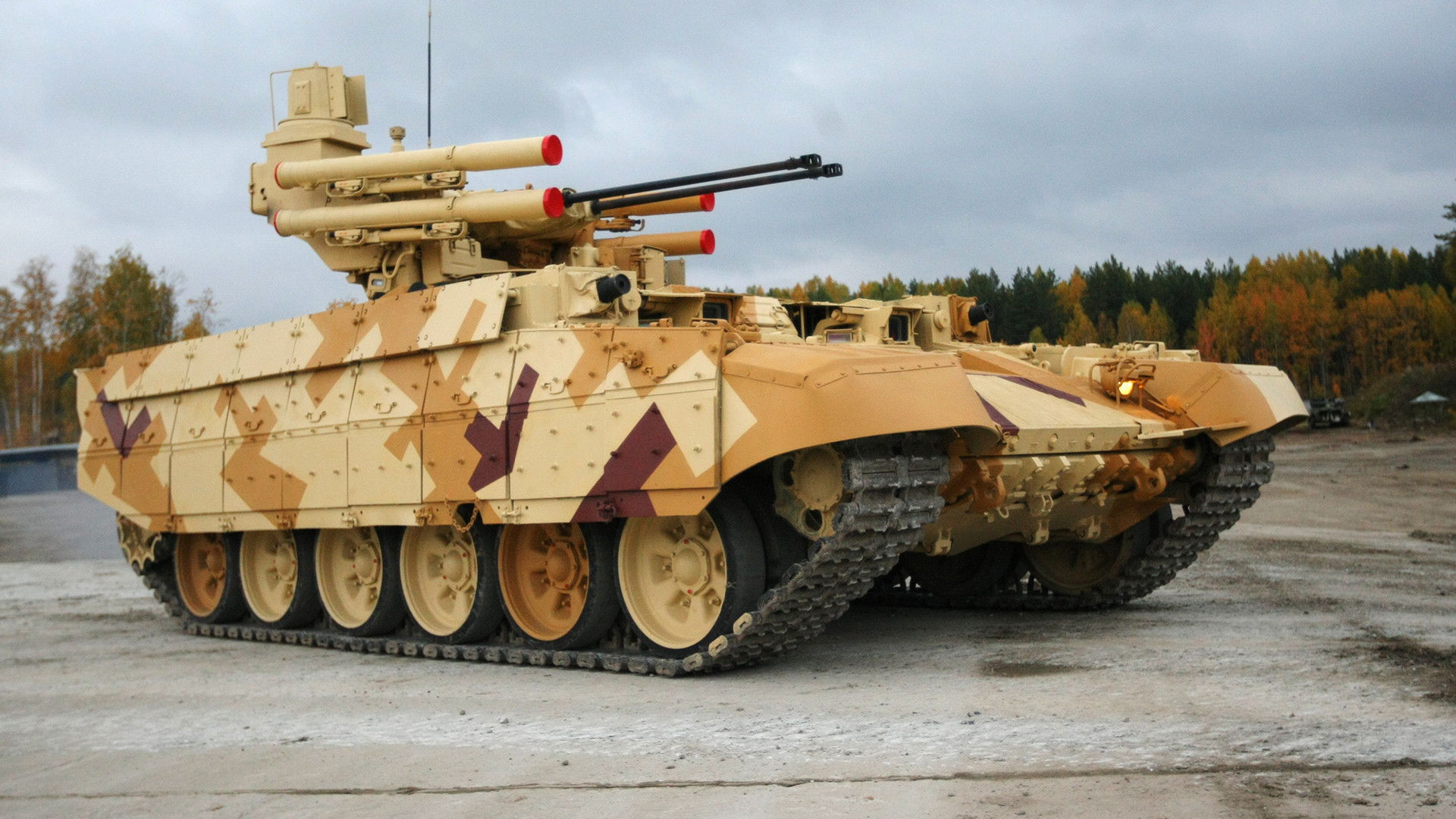 Heavily armed and clothed in thick armor to survive close quarters combat in urban areas, this armored fighting vehicle (AFV) carries four 9M120 Ataka missile launchers, two 30 mm 2A42 autocannons, two AG-17D grenade launchers, and one coaxial 7.62 mm PKTM machine gun.
This AFV has already passed not only military tests at home, but also had its baptism by fire in combat with Islamic State militants in Syria.
Nevertheless, the AFV has issues. Despite all the media fuss, it's a renewed version of its predecessor, "Terminator-1," and to sum up the changes, it's basically a cheaper version with less firepower than its `older brother.'
Manufacturers replaced the expensive T-90 chassis with that of the T-72, and they removed the AGS-17 automatic launchers. Also, the number of crew was reduced to three. With less firepower, it can take down only one target at a time instead of three as "Terminator-1" could.
"You don't always need nuclear weapons to win battles, and the necessary firepower can come from 125 mm tank guns, and this one will support units to eliminate smaller targets on the battlefield," said Alexei Ramm, an Izvestia newspaper military analyst.
The new tanks will be more affordable and easier to operate.
"In a couple of months the Defense Ministry will announce how many of these support units will be made for the army. We need just to wait until the new military program for 2018-2025 is announced," he said.
Other tanks
In recent years the army received around 3,000 new tanks. These include the widely discussed T-14 Armata tank with its new generation armor systems and the capacity to fire up to 10 tank rounds per minute at a distance of 4.3 miles.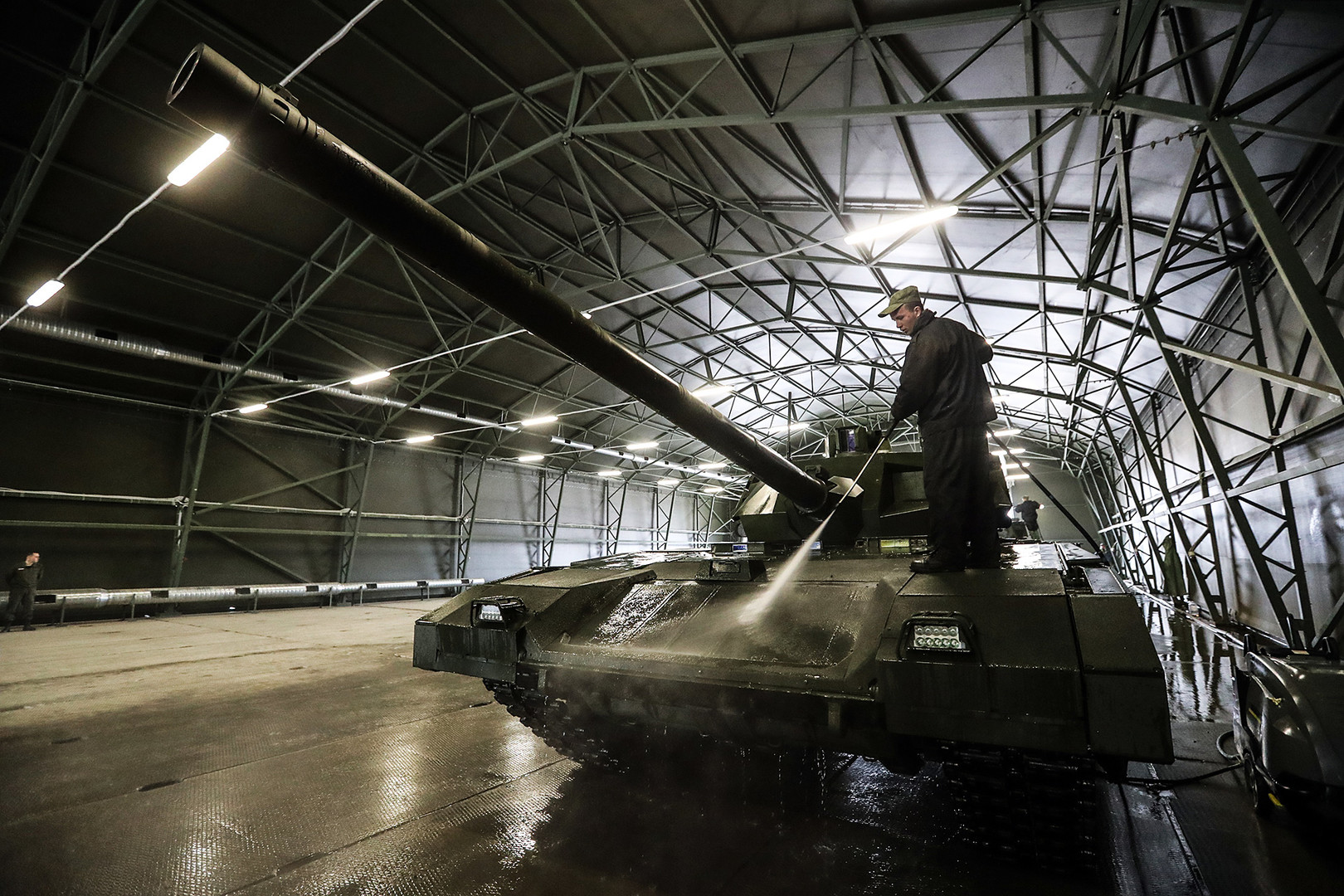 A serviceman washes a T-14 Armata battle tank at a service yard in Moscow's Nizhniye Mnevniki Street.
Sergei Savostyanov/TASS
The T-14 is a modified version of those tanks that have defended the country's borders in recent decades, such as the T-72, T-80 and T-90. All passed through a number of upgrades to meet the demands of modern warfare. If the T-72B3 is already in service, the T-90M and T-80BVM are getting ready for manufacture and military tests.
According to General Bulgakov, the main purpose of the modifications is to provide additional protection and maneuverability on the battlefield.
If using any of Russia Beyond's content, partly or in full, always provide an active hyperlink to the original material.