Russian military announces cost of 'Ratnik-2' - next generation body armor set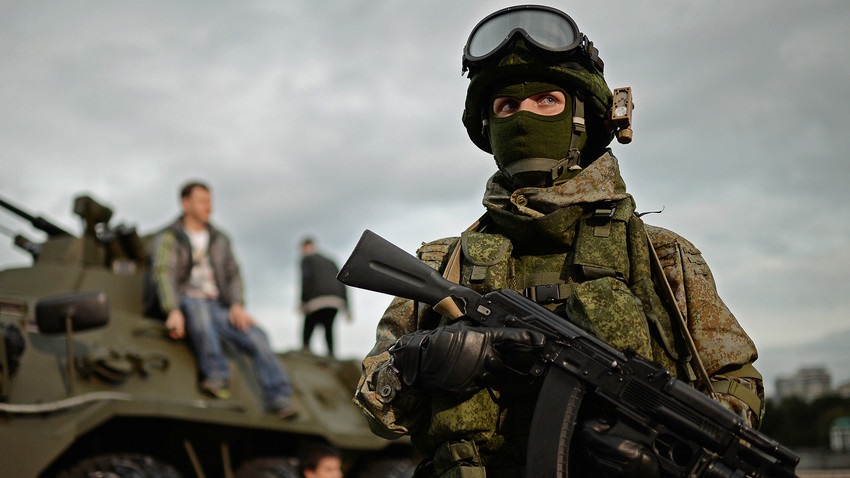 A soldier at the Russian Army Festival in Moscow.
Ramil Sitdikov/RIA Novosti
The "Ratnik" body armor system is one of the most prominent modernization projects of the Russian army. Finally, its developers have announced the price of each kit.
"Every basic infantry set has a minimum cost of 200,000 rubles (around $3,500). The Russian army has already received more than 200,000 sets and the military will be fully equipped with "Ratnik-2" body armor by 2020," Dmitry Semizorov, chief executive of Russia's Central Research Institute of Precision Machine Building, told Rossiya Segodnya news agency.
What's Ratnik?
It's a set of integrated weapon, defense, management, life-support, and power supply systems.
A full Ratnik-2 kit comprises of 59 items including a bulletproof vest, helmet, a headset with active protection, protective glasses, a number of reconnaissance devices, and several optical and thermal imaging sights. These battle systems are designed to work in all weather conditions ranging from -30 to +50 degrees Celsius.
"We can draw a parallel with the FELIN French body armor system, initially designed to improve combat effectiveness and coordination between soldiers on the battlefield. Both of these sets perform similar functions and both include additional battle systems. For example, the new Russian helmets will be equipped with eye monitors and thermal and night vision monoculars," Vadim Kozulin, a professor from the Academy of Military Science, told Russia Beyond.
All gadgets will be used by well-trained operatives and special forces groups in urban or rural spaces.
"These are sensitive and expensive things that aren't required for conscripts in the military who will leave the army after a year. The basic set for each of the 300,000 conscripts that join the army each year includes an assault rifle, body armor, and a helmet," the expert added.
Ratnik's camouflage has also been specially designed to make it harder for infrared cameras to detect the wearer. The full suit weighs 20 kilos, six less than than the FELIN, despite including extra water filters, a medic kit, and even a tent and sleeping bag.
But the biggest question today: What weapon will be developed for the kit? As it stands there are two candidates - the AK-12 and AEK-971 assault rifles, both chambered with 5.45 ammo.
"Military trials will be finished by the end of the year. It seems both guns will be adopted by the army, but for different forces. I believe the AK-12 will become the mass assault rifle for the infantry and the AEK-971 will be delivered and distributed between special forces groups due to its sensitivity," Dmitry Litovkin, an Izvestia analyst, told Russia Beyond.
As for now, manufacturers have already started working on a third version of the Ratnik body armor. The main goal is to integrate exoskeletons and various biomechanics tools that will sustain soldiers in battle, even after receiving wounds and injuries.
If using any of Russia Beyond's content, partly or in full, always provide an active hyperlink to the original material.