Which silent rifle will the Russian Special Forces be equipped with?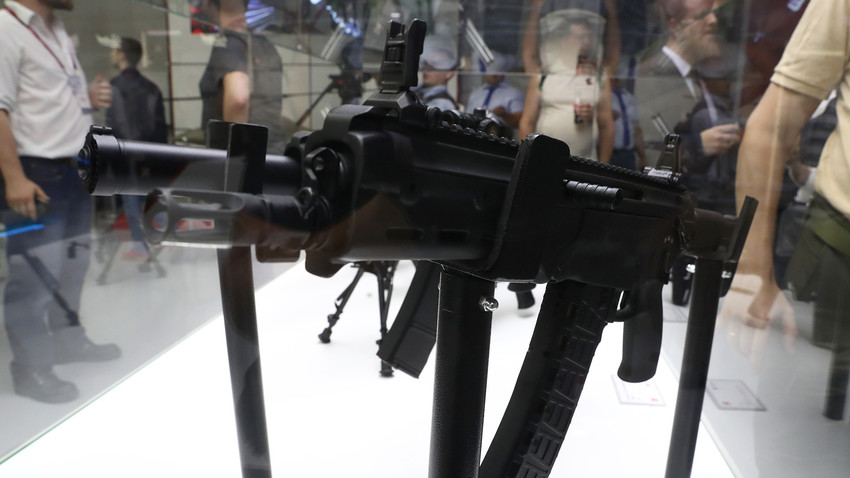 AM-17, a light assault rifle developed by the Kalashnikov group, on display at the Army-2017 International Military-Technical Forum held in the Patriot Expocentre.
Stanislav Krasilnikov/TASS
Enabling soldiers to operate special machine guns in cramped conditions while wearing movement restricting armor is the top priority.
Arms manufacturer Kalashnikov Concern is preparing to significantly beef up the "urban" divisions of Russia's army with the new compact AM-17 and AMB-17 machine guns.
The new firearms were created for soldiers operating in confined spaces. As a result, the weapons have been fitted with an silent firing system.
"The AM-17 was designed as a light and compact weapon. It's 50 cm long with a built-in silencer, and it weighs 2.5 kg before the magazine is attached. These two features alone make the soldier's job significantly easier, giving him increased firepower in situations where speed and maneuverability are needed," military analyst at Izvestia newspaper Dmitri Litovkin told Russia Beyond.
Also, the new AM-17 has discarded with the removable cover of the previous models.
As was announced by Kalashnikov Concern, the barrel extension will operate through two "receivers," fastened on a hinge and fixed into position by a pin. When the firearm needs to be cleaned and serviced, the shooter then "breaks" the weapon into two to complete the necessary procedures.
"The AM-17 was designed for 5.45 x 39mm cartridges, holding up to 30 in each magazines at a time, visible through a window on the side. This helps the combatant see how many cartridges he has left after firing. An added bonus for every shooter is the weapon's composition, which suits both 'righties' and 'lefties'," the expert added.
Like all Kalashnikov models in recent years, the weapon is equipped with a Picatinny rail, allowing various scopes and devices to be fitted on top.
"Put simply, the firearm employs all the subtleties of the AKC-74Y model, which was used by infantry divisions – comfort in operating the weapon is a top priority. The easiest example I can give is the controlled rifle-butt. The shooter will no longer need to twist his body and lean back in combat situations while operating in bulletproof vests and other means of protection," Litovkin said.
When will the weapon be in the hands of the FSB, FPS, and National Guard?
As the expert underlines, the AM-17 and its silent counterpart, the AMB-17, have only been released to a few experienced specialists and will appear in the hands of the interior defense structure's staff no earlier than 2018.
"Design tests are still ongoing, after which the first batch of rounds will be sent to the Spetznaz soldiers for combat tests," concluded Litovkin.
If using any of Russia Beyond's content, partly or in full, always provide an active hyperlink to the original material.