Russian Defense Ministry and Internet react to computer game image of 'U.S. supporting ISIS'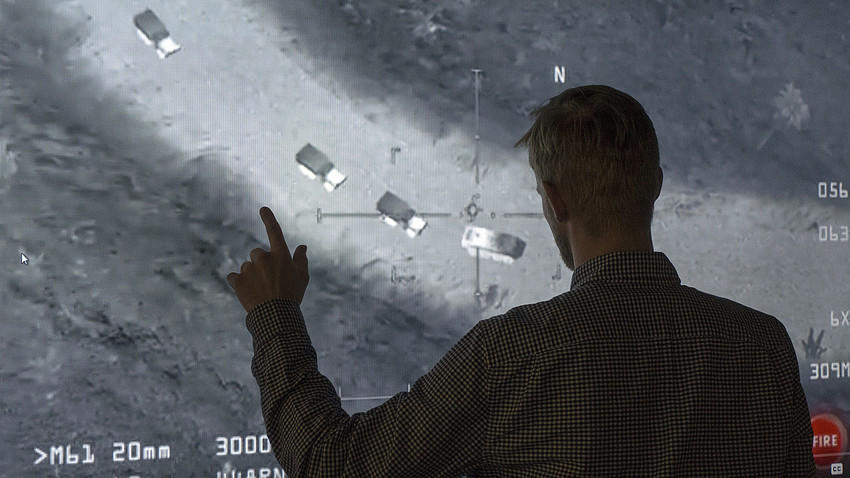 On Nov.14, 2017, Russia's Defense Ministry shared a still from a computer game claiming it proved the U.S. was aiding ISIS in the Middle East.
AFP
Russian government starts an internal investigation against a "civilian employee who uploaded computer game footage of undeniable evidence of U.S. troops escorting an ISIS convoy" - as Internet mocks situation.
On Nov.14, one of the Ministry of Defense's civilian employees attached a screenshot from the "AC-130 Gunship Simulator: Special Ops Squadron" computer game to a post about Russia's operation in Syria. The image shows a fictional scene: U.S. forces escorting an ISIS envoy.
Unfortunately for the Ministry, it wasn't deleted before Internet users noticed it: Triggering a flurry of jokes.
1) "Satellite images provided by @mod_russia, proving American support for ISIS near the city of Deir ez-Zor in Syria"
2) "Undeniable evidence of the Bashkir army using genetically modified horses"
3) "Shocking photos! Proof of the use of secret weapons of the United States against the Syrian rebels"
4) "The Russian Defense Ministry reported on the complete elimination of Somalian pirates"
5) "Unique photos of the U.S. supporting ISIS in Syria"
6) "Undeniable proof of the U.S. using cluster bombs in Syria"
7) "Undeniable evidence of ISIS leaders fleeing into the mountains with the help of American technology"
Yet, in a report compiled by the Ministry of Defense, the Kremlin downplayed the seriousness of the error regarding material from the computer game.
"This is nothing serious. Mistakes happen, and are corrected in a timely manner, as has been done by the Ministry of Defense. I wouldn't exaggerate the significance of this error," said press secretary to the President of the Russian Federation Dmitri Peskov, commenting on the situation around posts made by the Defense Ministry that used photographs from the computer game.
He added: "In the Defense Ministry we have said that, let's put it this way, the person to blame for this mistake has been punished in an appropriate manner."
If using any of Russia Beyond's content, partly or in full, always provide an active hyperlink to the original material.