Russia's new, stealthy rocket ships will soon be wreaking havoc at sea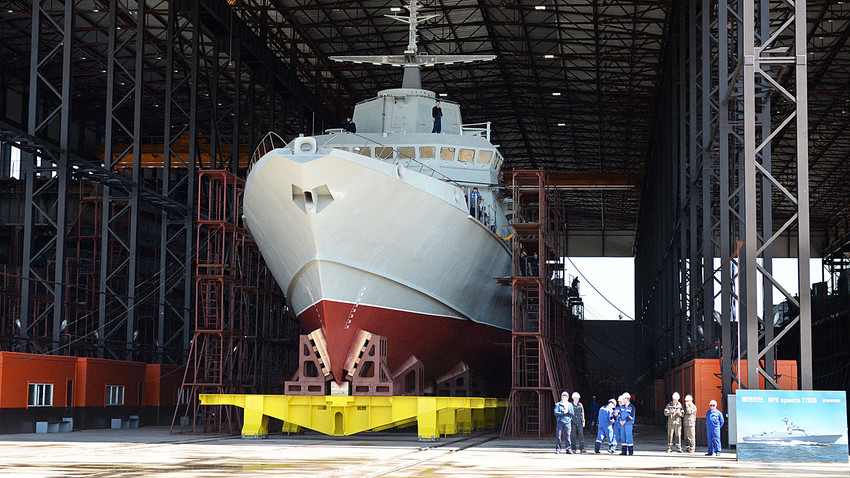 Project 22800 corvette, codenamed Karakurt, - a multi-purpose missile corvette designed for the littoral area at Pella Leningrad Shipyard in St. Petersburg.
Sergey Mamontov/RIA Novosti
For the first time in the fleet's history, it will be equipped with high-tech vessels that will be almost invisible to enemy radar and brimming with deadly weapons.
This November the first serial small rocket ship of the 22800 project known as "Karakurt" (or Mediterranean Black Widow) will join Russia's Fleet.
These rocket cruisers are named after the world's deadliest arachnid for a reason: They are loaded with some of Russia's most devastating weapons.
A force to reckon with
Project 22800 vessels are small littoral combat ships. They each displace 800 tons of water, are 60 meters in length, and 10 meters wide. Despite their size, they pack a serious punch as their armed with Kalibr and Oniks cruise missiles.
These compact vessels first made waves - literally and metaphorically - in 2015 when Russia's Caspian Fleet launched Kalibrs from the ships at terrorists in Syria. The projectiles traveled 1,500 km over Iran and Iraq before wiping out their targets.
Each one of these rockets is charged with 500 kilos of high explosives, capable of busting craters in the ground hundreds of meters wide. Kalibrs also have a range of up to 2,500 km and an accuracy of 30 meters - making them one of the world's most feared weapons.
"The Oniks, on the other hand, is a completely different monster. These are the first anti-ship missiles with artificial intelligence. They attack their targets like a wolf pack, dispensing zones of attack and coming from different sides," Alexei Ramm, an Izvestia newspaper military analyst, told Russia Beyond.
Another important feature of the Karakurt project is its defense systems. The first is the sea-based "Pantsir-M" anti-ballistic system created to intercept missiles during sea pitching, rain, strong wind, and even storms. It will also be more compact and covered with an anticorrosive sheath to withstand the elements.
"The biggest difference [between the ground and sea-based Patsir systems] is that "Pantsir-S" missiles have to intercept targets coming at them from above, and usually via predicted flights paths. Meanwhile, anti-ship missiles fly above the reflective water surface and even over waves during storms, which makes it harder for computer systems to predict their flight paths," Alexander Zhukov, chief designer at the High Precision Systems Corporation - which built the Pantsir systems - told Russia Beyond.
Another big difference is the fire rate. The Pantsir-S systems shoots 80 artillery projectiles per second (4,800 per minute), while the sea-based system can fire 160 per second (nearly 10,000 rounds per minute).
"The system's ammunition comprises 1,000 rounds and 32 anti-aircraft missiles, and creates a 20 km anti-aircraft dome around the ship it's installed on. That makes it an effective defense weapon in potential future conflicts in the future," CEO of High Precision Systems Alexander Denisov, told Russia Beyond.
Stealth technology for ships
Each new ship from the class will be built using different materials compared to previous generation vessels Russia possesses. These composite materials will make the boats harder to detect by enemy radar.
"American and NATO engineers mastered these technologies some time ago with multi-mission stealth ships, with a focus on land attacks, such as the Zumwalt-class destroyer. So the weapons are hidden deep inside the ship (covered in radar reflecting materials) and are only revealed during sea battles," Vadim Kozulin, a professor at the Academy of Military Science, told Russia Beyond.
Russian manufacturers will construct 18 Karakurts for its fleet. The first 12 will be delivered by 2020 and, as experts believe, will serve on the Black or Mediterranean Sea.
If using any of Russia Beyond's content, partly or in full, always provide an active hyperlink to the original material.