Futuristic firearm: Russia's military is fighting ISIS with electromagnetic guns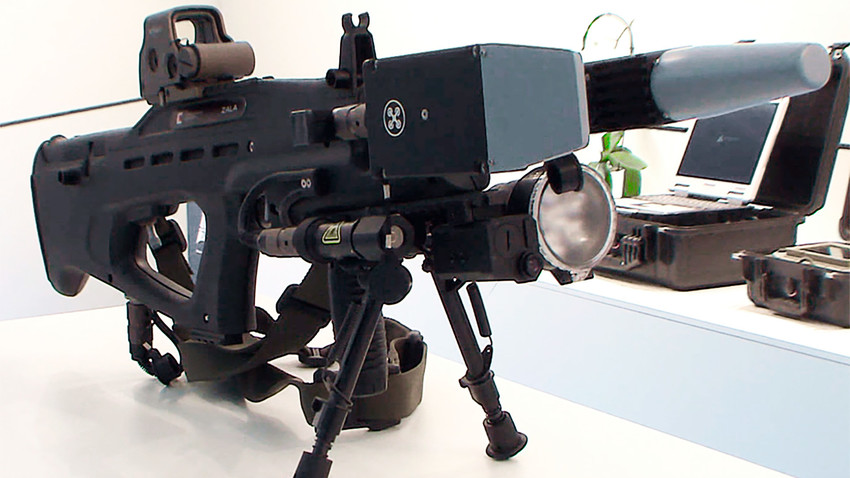 Russian weapons manufacturer Kalashnikov demonstrated its REX-1 anti-drone gun at the International Military-Technical Forum 'Army 2017' expo.
RT
The country's soldiers have been taking out drones in Syria by blocking signals with a new advanced weapon - no bullets needed. Two arms manufacturers are currently competing for the multi-million ruble contract to supply the army with the latest hi-tech gun.
These firearms may sound like something out of the new Blade Runner movie but the first electromagnetic gun model was unveiled to the world at Moscow's "Army" military tech show six months ago. The new "Stupor" guns have even been combat tested in Syria.
Dmitry Klochko, head of Locmas, the company producing the futuristic weapon, says it's designed to jam enemy Wi-Fi and GPS signals to neutralize drones and block channels of communication. The Stupor gun has a range of half a kilometer.
ISIS drones have reportedly destroyed a Syrian Army ammunition depot in Deir ez-Zor, killed the commander of an Iraqi Abrams tank, and an armored Humvee vehicle also belonging to the Iraqi security services.
Electromagnetic guns, the new AK-47s
Kalashnikov Concern has also decided to compete in this market and has unveiled its own anti-drone gun, the "REX-1."
Nikita Khamitov, head of the special projects department at Zala Aero Group (Kalashnikov Concern's sister company, which develops these kinds of weapons) told Russia Beyond the REX-1 is a radio magnetic gun which suppresses the command and control channels of the world's most commonly encountered drones. It's also fitted with a number of interchangeable electromagnetic and infrared units that suppress GSM, GPS, GLONASS, Galileo [the last three are various types of satellite navigation systems], and other channels.
According to Khamitov, it's possible to change the barrel of this gun and install the necessary components in a matter of seconds, just like changing the magazine on an assault rifle.
The REX-1 is capable of continuous fire for four hours. The user can then either recharge it for four hours using an ordinary 220-volt socket, or slot in an additional battery for uninterrupted use.
Drones will react differently to this sort of fire. Depending on the precise model, drones have two default modes in case communication is lost with the operator: They either return to the start point or land automatically land.
"In the latter case the drone will disappear from enemy radars, and you effectively have a new toy in your hands," Khamitov added.
If using any of Russia Beyond's content, partly or in full, always provide an active hyperlink to the original material.