Sky kings: Which aircraft bolstered Russia's Air Forces in 2017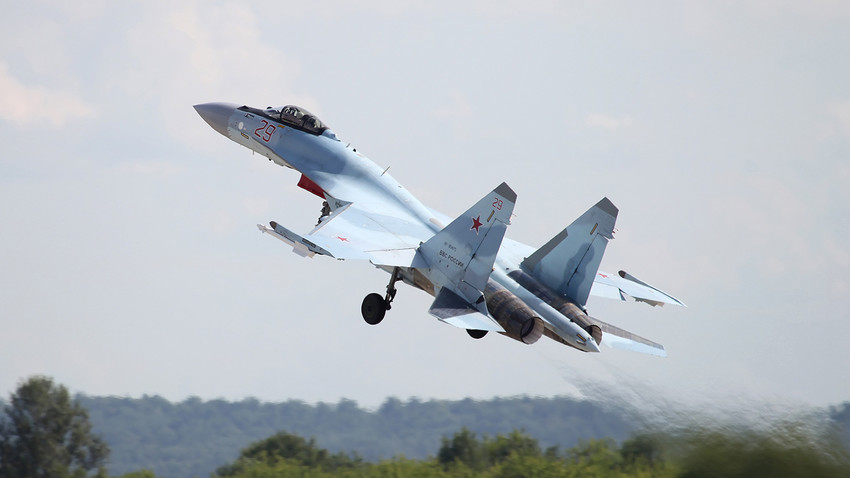 SU-35S takes off at MAKS-2017 aerospace salon in Moscow susburbs.
Vitaly V. Kuzmin/www.vitalykuzmin.net
Almost 200 new 'war wings' were introduced into the military this year, and many have already been baptized in Syria.
Fresh Wings
Russia's military started receiving new advanced aircraft a couple of years ago and this year as many as 190 planes and helicopters beefed up the Air Force.
The main addition was a number of 4++ generation Su-35S fighter jets, which have been fighting ISIS in Syria. The planes can carry up to eight tons of high-precision bombs and missiles and also have defense systems capable of counteracting electronic warfare weapons, which are designed to "turn off" the Su-35's weapons.
"Duckbills" have also been introduced - aka Su-34 frontline bombers, distinctive for their flattened nosecones. In appearance these aircraft look like fighter jets, not bombers, and can be loaded with eight tons of bombs and cruise missiles. They can also fly up to 7,000 km on one tank of fuel.
"It was designed as a high tech machine for both short range frontline bombings and also long distance missions. It has enough space for the pilot to stand up and lie down between the seats. Such perks are only possible in enormous strategic bombers or transport planes," Izvestia military analyst Dmitry Safonov told Russia Beyond.
New choppers
The so-called "Night Hunters" and "Alligators" have also been making waves in the military. Officially the former is called the Mi-28 and the latter Ka-52.
Mi-28s have been destroying terrorist targets in the Middle East. In 2015, they helped retake the city of Palmyra from Islamic State.
In the video you can watch a Russian Mi-28 taking out an armoured terrorist vehicle with anti-tank guided missiles. Previously, these kings of the sky were only used to defend Russia's Khmeimim base in Syria.
The Ka-52 "Alligator," Ka-52K "Katran" (the sea-based version), and Mi-28 have all supported land units this year, eliminating enemy tanks, artillery, and outposts.
Russia's Ministry of Defense is also planning to integrate a number of transport helicopters, Tu-160M2 strategic bombers, Su-57 fifth generation fighter jets, and the newest MiG-35 4++ generation fighter jets in the coming years.
If using any of Russia Beyond's content, partly or in full, always provide an active hyperlink to the original material.