More bang for your buck: How AK assault rifles were improved at the close of the 20th century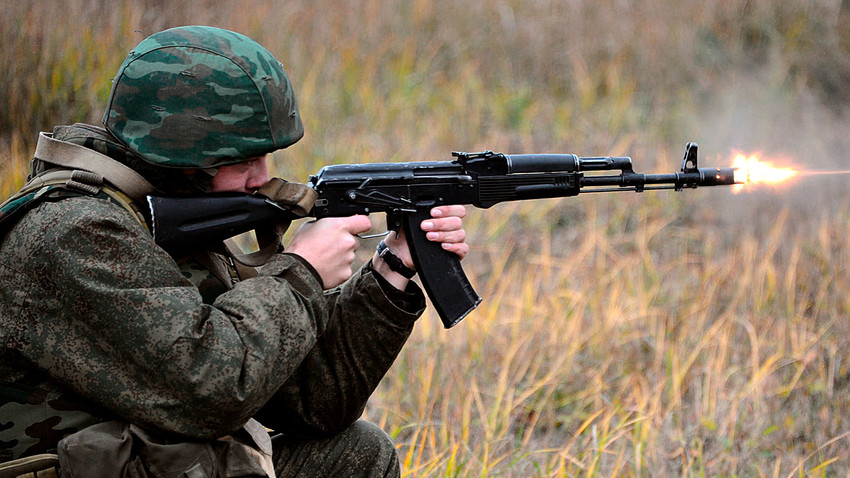 A Russian soldier during military drills with an AK-74
Global Look Press
The world's most widely used assault rifles, the AK-47 and the AK-74, got a new lease on life in the mid 1990s thanks to the modified export series. 
As of today, there are around 60 million AK-47 and AK-74 assault rifles worldwide that are the weapon of choice for soldiers in 50 countries. To make an even better rifle, engineers created a number of upgraded versions, and in the process they opened a new era in infantry weaponry.
"Black Kalashnikov"
Upgrades were possible thanks to new technologies and modern materials. To improve important elements such as the gas tube, receiver ring and sight, engineers use precision casting. This significantly improves quality in contrast to the previous method of hot stamping.
The AK-100 series has no wooden parts, unlike the old AKs. Designers now use composite materials such as reinforced polyamides that increase the rifle's service lifetime. Thanks to these new materials the rifles are lighter than their predecessors. In addition, the new materials are black, and so the new series has been dubbed, "Black Kalashnikov."
Innovations also improved gun ergonomics and battle capabilities. For example, the weapons have rails on top to fit scopes and optics, as well as rails for grenade launchers underneath. The new rifles can also be outfitted with bayonets accompanied by a powerful muzzle break that drastically increases stability and reduces recoil.
The rifle features a folding stock that folds the same way as with the modified AK-74M, to the left. In contrast to the riveted metal butts, plastic parts are less susceptible to deformation and damage.
The rifle still uses AK-47 and AK-74 ammo that includes 7.62x39 and 5.45x39 rounds. Also, a number of modifications were made to match NATO standard cartridges.
NATO-type series
Technology has advanced significantly since the first AK-47 and AK-74 models were made, and in the mid 1990s Kalashnikov Concern (KC) created the first batch of upgraded AK-74Ms, codenamed AK-101. It was adapted for NATO-standard 5.56x45 ammo, which was more powerful than the AK-74's ammunition. These rifles were modified for a number of country buyers - Indonesia, Iran, Pakistan, Uruguay, and etc.
Yet, there is also a need for a compact rifle for close urban combat and KC made another version of an AK-101 with a shorter barrel, dubbed AK-102. Law enforcement agencies use these weapons because they're convenient in urban work.
New life for the AK-47 and AK-74
In different situations one needs a rifle with varying degrees of firepower. For 7.62x39 AK-47 ammo cartridges KC created the AK-103 series. These rounds have superior penetration and stopping power compared to NATO's 5.56x45 and 5.45x39 round that's used in the AK-74. The rifle's shorter version was created as part of the AK-104 series.
The new generation AK-74, which includes all the capabilities described above, was code-named AK-105. With a short barrel, and chambered with 5.45x39 mm ammo, it replaces the AKS-74U model and is used by Russian National Guard forces.
If using any of Russia Beyond's content, partly or in full, always provide an active hyperlink to the original material.