Ekaterina Kim is originally from Kyrgyzstan, a country in Central Asia that used to be a part of the former Soviet Union. Driven by ambition, she came to Moscow to study, where she also met her first husband and found her first job. After seven years, however, her marriage ended in divorce. Three months later, she was actively searching for another man.
"I was 26 years old, had two kids and a great career, so I decided not to wait," she said.
Financially independent and confident, Ekaterina decided she needed a practical approach to her love life. Her company, iTrack, is integrating CRM, and so she replaced Tinder and other apps with a business-like approach.
"Building a relationship is similar to finding partners, clients or contractors for your company," Ekaterina said. "You need to identify a potential 'pool' of candidates and take them through the 'sales funnel': the first contact, the feedback, the offer, and finally the first transaction."
For her, CRM was an instrument to facilitate communication, remind about dates, store a brief description of men, as well as "effectively negotiate with every candidate."
"If you want to find a great match, you have to meet many people, and CRM is very helpful," she said.
Defining criteria
To start, Ekaterina had a list of requirements for her future husband. He had to be older, with good manners, work in tech like herself, and not drink alcohol. She already had two sons, so her potential partner had to be childless and prepared to raise her kids as his own.
Ekaterina didn't have any particular requirements for his financial status, but he had to to provide for himself. Also, he had to be an ethnic Korean, like herself.
"My first husband came from another background: traditions and cuisine are important to me," Ekaterina said.
Approximately 500,000 ethnic Koreans reside in the former Soviet Union, primarily in the now-independent states of Central Asia. As a child, Ekaterina studied the language, took a trip to Korea and supports her culture.
The hunt
Because of her specific criteria, Ekaterina started looking for candidates in online communities, such as Korean groups on Facebook and other social networks. "I also handpicked some candidates, for example, on dating websites."
Finally, she found 43 people that fit her basic requirements. Ekaterina divided the selection process in stages, such as: "first contact;" "good impression;" "second date;" "fell in love;" "sex;" "meeting children;" and "marriage." She also had a grading system according to her requirements.
She put others in another group who didn't pass her scoring, but who nevertheless managed to create a good impression.
"There were many candidates and different channels of communications, so I integrated all my messengers with CRM," Ekaterina said. "This stored all the message history in one place."
Just like a sales person, she filled in the additional information about the 'prospective client' after every meeting, including hobbies, work, values, and background. CRM was also able to send men messages automatically, for example, a postcard on their birthday saying:
"Happy birthday, …! Great to meet you."
Clinching the 'deal'
Only eight candidates out of 43 men made it to the second date. "Some didn't fit my criteria, while others decided they weren't interested."
Ekaterina had to close her 'deal,' otherwise she'd have to start from the beginning. To attract attention, she launched an ad campaign on social networks, promoting her personal page and seminars. She targeted potential candidates. "My goal was to remind people of myself."
The second date brought Ekaterina a couple of other disappointments: five men had to go, and only three were left.
"Only one guy made it to the final. The risk was huge: sex, and the meeting with the children hadn't yet taken place."
In the end, that only candidate successfully 'passed' the final stages and made it to the next level.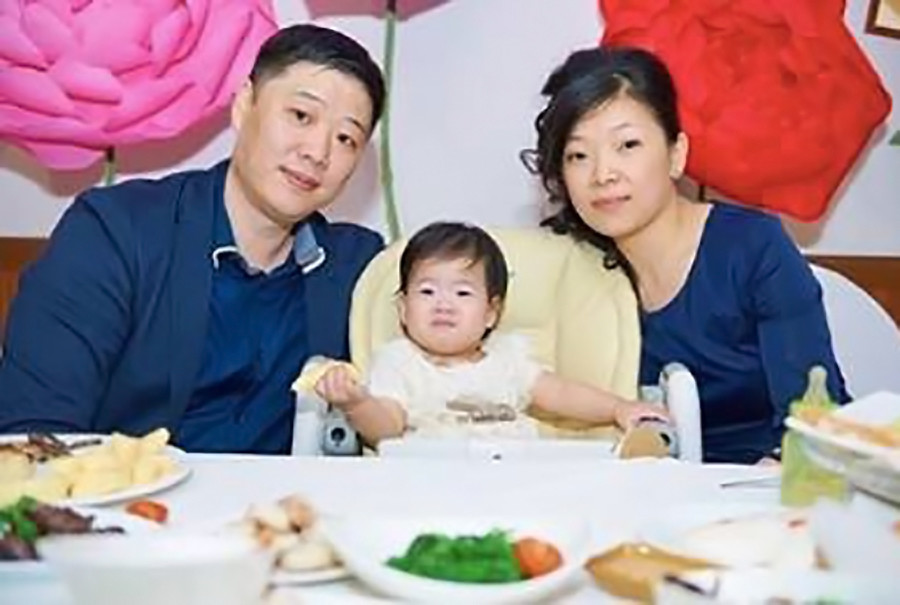 Ekaterina Kim
https://www.facebook.com/e.abdraimova
"He's a great husband and a loving father to the boys from my previous marriage and our common daughter, who is now three years old," said Ekaterina. "We bought an apartment and are developing a business together."
After publishing an article about her experience on vc.ru, an online Russian magazine for tech entrepreneurs, Ekaterina received many requests to develop a high-tech solution for finding a love partner. However, she said that she's not planning to do this, and prefers to focus on her core business.
If using any of Russia Beyond's content, partly or in full, always provide an active hyperlink to the original material.