Russia pioneers 'artificial skin' for real people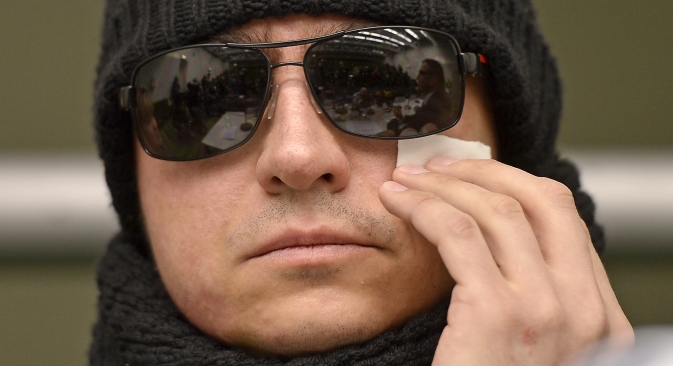 Artistic director of the Bolshoi's ballet Sergei Filin gets medical treatment in Germany, especially on his eyes, after he was attacked with acid in January in Moscow. Source: AP
A unique product developed by Russian biophysicists saves the face of the Bolshoi Theatre's artistic director.
A popular name for the technology used worldwide to treat severe skin injuries is 'artificial skin.' Few people know that this unique technology was developed by researchers from Moscow Region's Pushchino. The Institute of Theoretical and Experimental Biophysics of the Russian Academy of Sciences developed the first samples of 'artificial skin' back in the 1980s.
Over the course of the last three decades, the laboratory in Pushchino has developed dozens of burn treatments — films, gels and products for surface injuries, medical cosmetics and regeneration.
One of the most recent gels based on cell technologies has been used to treat the Bolshoi Theatre's artistic director, Sergei Filin, whose face was badly burned in January 2013 as a result of an acid attack.
The gel was applied within 24 hours of the attack.
"Regeneration of damaged tissue started immediately. The result astonished even some of the medics, who originally warned that the patient required a series of complicated plastic surgeries — and there was no guarantee that he would ever look the same," says Boris Gavrilyuk, who is the head of the cell and tissue growth laboratory and a member of the International Society for Burn Injuries.
"However, five days later virtually no traces of burns remained — the patient's skin is smooth and has no scars, although there have been no surgeries, and only our product has been applied," he added.
Gavrilyuk believes that Russia probably has the most effective burn treatments in the world at present. He notes that it was immediately after the Chernobyl accident that Soviet researchers were tasked with helping those who suffered from serious burns. Scientists had to develop an 'artificial skin' in the context of impending nuclear catastrophes, which are always associated with large numbers of injuries caused by UV- and gamma-radiation.
There was a need for materials that would have the same properties as epidermis and the ability to regenerate internal damaged layers. Many years of experience resulted in a so-called biological colloid, which combines the medical properties of synthetic materials and the biological properties of natural polymers.
"Prior to this, various skin injuries were treated using so-called wound covers," said Gavrilyuk. "They have good mechanical properties, protect wounds from external factors and more or less facilitate regeneration."
"However, they were lacking one crucial component: they could not regulate the wound repair process," he added. "We managed to create a system that controls this process — providing complete regeneration in the normal reconstructive mode — and rebuilds tissue. It proved to be much more effective."
In other words, the components of this colloid gel contain substances with ideal viscosity properties that encourage the growth of cells in the right direction, kickstarting the process of regeneration.
"Products of this series open new possibilities for contemporary medicine," says Genrikh Ivanetsky, director of the Institute of Theoretical and Experimental Biophysics at the Russian Academy of Sciences.
According to the most conservative estimates, medics annually have to treat at least 700,000 patients with various degrees of burns, not counting frostbite victims and more than a million patients with trophic lesions of skin.
The article is abridged and first published in Russian in Itogi magazine.
All rights reserved by Rossiyskaya Gazeta.