Kaspersky Lab: Ferrari's new IT security provider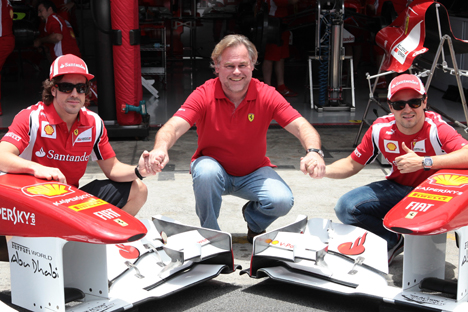 Kaspersky Lab is the "official sponsor" of the Ferrari team at F1 races. Source: AFP / East News
Kaspersky Lab has been collaborating with Ferrari since 2010. So far, the company has sponsored Ferrari's Formula One efforts. Under a new agreement, the Russian developer will now be providing IT security not only for office computers and employees' mobile devices, but also for computers controlling production lines.
Ferrari, a sports car and Formula One race car manufacturer, is to receive total endpoint IT security from the Russian IT protection specialist, Kaspersky Lab. A five-year agreement has been signed by the heads of the two companies, Kaspersky Lab confirmed in a statement on its website.
The amount of the deal was not reported.
So far, Kaspersky Lab applications and solutions have been installed on around 4,000 computers at Ferrari headquarters, and further installation will be rolled out over the next year, throughout the manufacturer's corporate network.
"Growth in the B2B sector is currently one of Kaspersky Lab's key strategic goals," says Alexander Erofeev, chief marketing officer at Kaspersky Lab.
The company has experience in providing its malware protection solutions to large corporations: Kaspersky Lab's customers include German chemical company BASF and Russian state-owned arms trader Rosoboronexport.
"To protect our sensitive intellectual property, we needed a strong technological partner, and we have chosen Kaspersky Lab. We're looking forward to developing our partnership further in the technological field in the long term," says Vittorio Boero, Ferrari's chief information officer.
Kaspersky Lab began its collaboration with Scuderia Ferrari in May 2010, sponsoring the AF Corse team (involved in the Le Mans Series) and assuming the position of "official supplier" to Scuderia Ferrari at F1 races.
In November 2010, Kaspersky Lab became the "official sponsor" of the team for two years, with Kaspersky Lab's logo appearing on Ferrari's Formula One cars.
In addition, a license agreement was signed for the companies to release a co-branded product — Kaspersky Internet Security Special Ferrari Edition, which comes with a Ferrari-style user interface and a Ferrari Virtual Academy video simulator.
Kaspersky Lab also prompted the legendary racing team's involvement in Moscow City Racing in 2011 and 2012.
Eugene Kaspersky, CEO and founder of Russia's best-known IT protection specialist, said that the contract with Ferrari was an investment in promoting the Kaspersky brand on the international market. This is the main reason Kaspersky Lab chose to support Ferrari rather than Vitaly Petrov and Russian Marussia Motors.
"Ferrari has always been in F1, and F1 owes its existence to Ferrari. It is a safe choice in terms of brand visibility," says Alexander Moiseev, Kaspersky's head of global partnerships and sponsorships. "Ferrari has tremendous experience and access to everything. If we want to use their merchandising, we can have it."
This article is based on materials by RIA Novosti and sportmanagement.ru.
All rights reserved by Rossiyskaya Gazeta.