Internet users spend $1.3 billion on online games in Russia and the CIS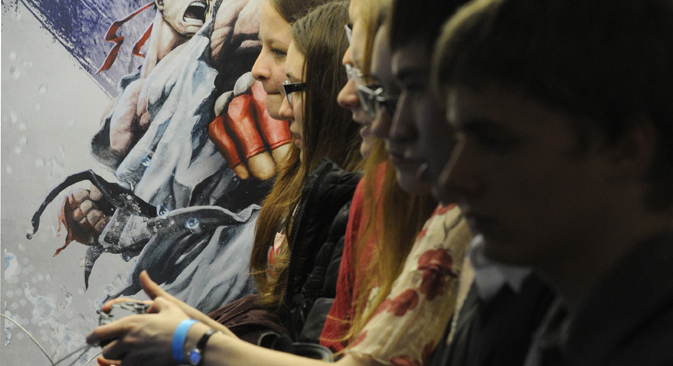 Video games are very popular among young russians. Source: ITAR-TASS
The figure actually exceeds the overall box office in the region in 2012.
According to the Mail.ru Group, Russian-speaking Internet users across the CIS (excluding Ukraine) spent a whopping 40.8 billion roubles ($1.3 billion) on online games. The amount factors in purchasing game time/subscription to games and acquiring artifacts, levels, etc.
The figure has propelled the market to a position ahead of the film industry, which had total box office earnings for the year of 39.3 billion roubles ($1.25 billion), as estimated by Romir Movie Research.
Games are gaining on films in popularity, this being a worldwide trend, Vice President for online games at Mail.ru Vladimir Nikolsky confirmed. Last year, video game earnings surged by 22 percent, compared with a more modest rise of 10 percent in box office earnings.
According to the NPD Group, total spending on video games in the US reached $14.8 billion in 2012, while the relevant box office total calculated by Box Office Mojo stood at $10.8 billion.
The film industry is the closest rival to the video game segment, the source at the Mail.ru Group said, arguing that films and games actually used similar technologies, graphics and tricks.
In Russia, video games had already outstripped the film industry in terms of earnings two or three years ago, according to Sergei Orlovsky, General Director of Nival, a video game developer. In his estimation, video games generated an overall revenue stream of $1.5-2 billion in Russia in 2012.
According to Orlovsky, the film industry is also a direct competitor of video games in terms of the time and money consumers are prepared to spend, as well as for professionals. In Russia, people are inclined to splash out easily on video games, founder of investment vehicle IMI.VC Igor Matsanyuk said.
Unlike the film industry, the major Russian developers can actually make money on foreign productions, Orlovsky added. Mail.ru experts were unable to assess the DVD and online film sales, the source within the company admitted.
According to M.Video, the Russian DVD and Blue-ray market topped 3 billion roubles last year, whereas no online sales figures are available for Russia. Meanwhile, according to PricewaterhouseCoopers (PwC), total recreation spending hit nearly $12 billion over the year in Russia, with video games coming in fifth (see infographics).
PwC gives a more optimistic estimate of the Russian video game market compared to Mail.ru: $1.4 billion for Russia alone in 2011, rather than $1.1 billion for the entire CIS market.
Meanwhile, printed media are still the main diversion for Russians. According to figures from Rospechat (Federal Agency for Press and Mass Communications), Russians spent almost 69 billion roubles on newspapers and magazines in 2012.
The Eksmo publishing house, in turn, puts their total spending on books at a comparable figure: 60 billion roubles. It is not known how much we spend on music.
"Active consumers generally like to unwind: they go to a lot of films and listen to music", General Director of Cinema Park movie theatre chain Sergei Kitin said with a degree of certainty. "The main competitor to the film industry happens to be pirates and not video games", he added.
First published in Russian in Vedomosti.
All rights reserved by Rossiyskaya Gazeta.