Helicopter exhibition opens in Moscow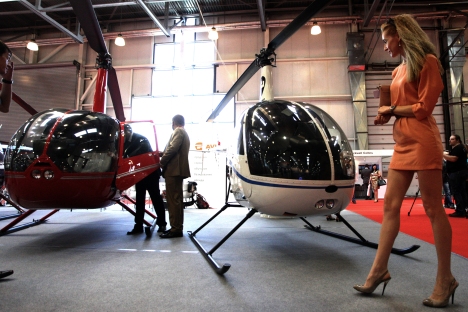 More than 200 companies from 18 countries are taking part in the exhibition. Source: ITAR-TASS
The Russian Ka-62 and Russian-Italian AW139 will make their debut at the 6th International Helicopter Industry Exhibition, HeliRussia. The exhibition is being held in Moscow from May 16th to the 18th.
This year HeliRussia will unveil the highly-anticipated Ka-62, which is almost ready for tests. A showcase of the model's design at the previous year's exhibition gathered a lot of interest from experts and regular visitors alike.
Ka-62 is a civil model of the Ka-60 Kasatka helicopter, which was produced at the end of the 20th century for defense and law enforcement agencies. A lot of work has gone into the development of the Ka-62 over the last five years.
The Ka-62 was designed by world-renowned industrial designer, Vladimir Pirozhkov. The Ka-62 is powered by state-of-the-art, French-made, Turbomeca Ardiden 3G turbo shaft engines.
A leading Austrian firm was engaged in the development of the main gear box and transmission. The Ka-62 avionics were supplied by market leaders.
The result is an elegant, comfortable and powerful helicopter that has generated interest among domestic and foreign buyers.
One of Brazil's largest helicopter companies has already signed a contract for the order of seven Ka-62 helicopters, becoming the first official buyer.
Ka-62 test flights are scheduled to begin this year, and it is expected to receive certification by 2014.
Other helicopters to be presented at the exhibition include the Ansat, Mi-171A2, Mi-38 and Ka-226T, which are increasingly in demand. The AW139 medium-sized civil helicopter assembled by a joint Russian-Italian venture will also make its debut at the exhibition.
Sikorsky Aircraft Corporation, the largest helicopter producer in the United States, will be showcasing the cabin of its new S-92 heavy helicopter for the first time in Moscow.
Specialists are looking forward to comparing it with the cabin of the Mi-26, the world's heaviest helicopter. Also on display at HeliRussia will be the entire range of Robinson helicopters, which are growing increasingly popular in Russia.
More than 200 companies from 18 countries are taking part in the exhibition.
All rights reserved by Rossiyskaya Gazeta.