$130 million invested in Russian e-commerce by Western group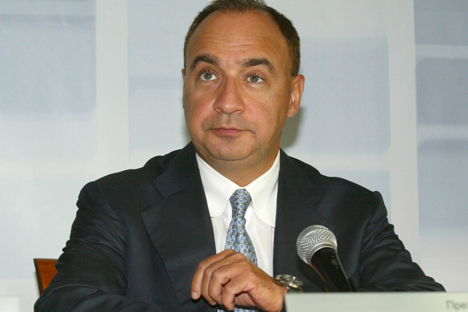 Access Industries of Leonard Blavatnik promoted an investment infusion in Lamoda.ru. Source: Itar-Tass
Russian retailer Lamoda.ru set a record by receiving a funding injection from a group of American and German investors
On June 11 Lamoda.ru, one of the biggest Russian online retailers, closed its latest investment round by receiving $130 million in funds from Leonard Blavatnik's Access Industries, Summit Partners and Tengelmann Ventures, a group traditionally involved in the projects affiliated with the German incubator Rocket Internet (Lamoda.ru is listed among them).
The online retailer closed a previous round just nine months ago and, according to various sources, in September 2012 JP Morgan invested from $40 to $80 million in the project.
TechCrunch reports that Niels Tonsen, co-founder and CEO of Lamoda.ru, welcomed the news as an occasion to expand the venture. "The investment will serve to the construction of company's own logistics in Russia and the Ukraine," he said. Currently Lamoda.ru brings to the CIS countries' market more than 800 brands and ships via Lamoda Express, covering a total of 10 cities. By the end of the year he expects the amount to grow to 25.
Tonsen did not discuss the financial performance of the store, but revealed that the number of monthly users has increased to 1,000,000 (for the Russian and Kazakh websites), with the number of views up to 20 million. Around 15% of traffic comes from mobile devices. The Lamoda.ru CEO assured that his company will not use the investment to acquire other competitors, but does not exclude a collaboration with other startups from "Rocket Internet" - "if they make sense," as he put it. The $130 million investment will be spent on logistics and the creation of visualization technologies and the enhancement of their online-based customer service.
Until now the record for highest investment in the Russian online shopping sector was held by Ozone, which in 2011 managed to obtain $100 million in funding.
Tonsen has not disclosed the value of the project, but the analytical agency Infoline believes that Lamoda.ru holds the second place by revenue ($ 170 million in 2012), after Wildberries ($200million). Esper Group estimates that the Lamoda.ru's revenues in 2012 reached $150 million.

Lamoda.ru, a clothing, shoes, accessories, household goods and cosmetics retailer, was launched in December 2010 by the German startups incubator Rocket Internet, which has also invested in Mebelrama.ru, Zalando, eDarling, Groupon, TopTarif and other projects. The founders of Lamoda.ru are Dominique Picker, Florian Jansen, Burkhard Binder and Niels Tonsen.
All rights reserved by Rossiyskaya Gazeta.