Moscow subway gets new circle line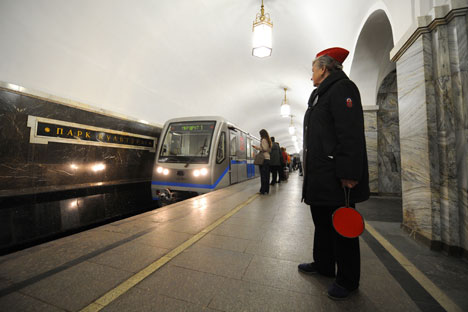 Moscow's metro is the third busiest in the world, after Tokyo and Seoul. Source: ITAR-TASS
Two rapid rail links will be appearing in Moscow within the next few years — a new subway circular line and a surface, commuter-train circular line, acting Moscow Construction Department head Andrei Bochkaryov told a press breakfast at Rossiyskaya Gazeta.
The Moscow Metro serves an average of 7 million passengers a day. This means that passenger density in metro carriages reaches almost eight people per square meter during rush hour — far more than the set standard.
Construction of new lines and stations has so far failed to offset rising passenger numbers, so the Moscow city government is speeding up construction.
Metrostroy (the organization that builds new lines), together with other contractors, is using 20 tunnel boring machines simultaneously, which is up from just two back in Soviet times.
Andrei Bochkaryov called the new subway line "the third transfer contour," central transfer stations being the first and the circular line running round the city center being the second.
A new, larger-diameter, 32-mile-long ring line will thus become the third contour.
Construction on it started in 2010 and is currently underway at 100 sites; the Moscow city government is planning to have 240 construction sites up and running simultaneously by 2014.
The Moscow Metro opened for service in 1935, and it now has 12 lines and 188 stations. Moscow's metro is the third busiest in the world, after Tokyo and Seoul.
Many stations in the center of the Russian capital are architectural landmarks. There is even a popular tour of historic metro stations in Moscow.
According to Andrei Bochkaryov, international experience has been used in the construction of new lines. Moscow engineers have worked closely with their Spanish colleagues on station and tunnel design.
Not all experience is transferable though. Tunnels in the Madrid subway are smaller in diameter, but the daily load there is around 2 million passengers, compared to the 7 million in Moscow.
Moscow Metro stations are located at an average of 1.2 miles away from one another. This means that 22 percent of Muscovites have no rapid rail stations within walking distance.
According to city government calculations, once the new circular line is commissioned, the number of residents living far from rapid rail will fall to 7 percent.
Andrei Bochkaryov also described plans for building a small railway ring. This circular route is supposed to become a middle ground between a classic commuter train and a light rail.
The Moscow city government and Russian Railways have reached an agreement, in principle, to build the line. The ring will consist of 31 stations.
In fact, a small Moscow railway ring already exists, but it is in very derelict condition. It was conceived of at the end of the 19th century and entered service in 1908. It is 33.5 miles long.
The railway line operated irregularly, alternating between freight and passenger transportation. Finally, the Moscow city government and Russian Railways reached an agreement in 2011 to reconstruct the railway and rebuild its destroyed sections.
The city government, led by Sergei Sobyanin, started a radical modernization of public transit and expansion of road construction in Moscow, after then-President Dmitry Medvedev appointed Sobyanin mayor of Moscow in 2010.
One of the tasks the president assigned the new mayor was to ease the load on Moscow's highways and get rid of its notorious traffic jams.
Many experts believe the mayor's current economic activity is linked to the election campaign.
Elections of governors have been introduced in Russia this year. They existed under President Yeltsin in the 1990s, and Russia has now returned to the practice.
Since the position of mayor of Moscow is equivalent to that of a governor, the appointed Mayor Sobyanin has resigned, in order to run in the free election scheduled for this fall.
So the development of the transport infrastructure could be seen as part of the mayor's election campaign.
All rights reserved by Rossiyskaya Gazeta.