Top 5 cell phone fraud schemes in Russia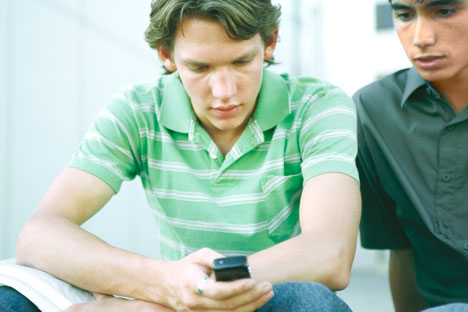 Mobile phone providers themselves are trying to protect their customers from fraud, but this does not always help. Source: Getty images / Fotobank
In the ongoing battle with cell phone fraud, the government will now legally require customers to open a separate account for entertainment and application expenses.
Using various schemes, scam artists annually steal approximately $300 million from the accounts of Russian cell phone users. Mobile phone providers loose about as much. To protect customers, the Russian State Duma has adopted amendments to the telecommunications law that will, starting in 2014, require cell phone users to open a separate account to pay for additional services.
The fact is that the number of ways to scam money from customers is growing literally with every passing day. A few basic scams have been around for quite a long time, and, despite the fact that they are well-known, they continue to generate income for thieves. Here are the top 5 most common types of cellular phone fraud in Russia:
1. A text message is received about a request for a money transfer. Scam artists pass themselves off as relatives caught in a difficult situation and urgently in need of money. "Mom, send $50 to my account and I will explain it all later," is the most widely used text. Scammers are betting on the fact that the victim will panic and not ask any questions.
Another method is also used: A person receives a message from an unfamiliar number about a deposit to his or her account. The person then receives a call, is told that one digit in the number has been mixed up, and is asked to send the same amount to another number. Most people do not check their own balance or notice that the text about the deposit did come not from the cell phone provider.
2. Another popular method is also based on human weaknesses. A person receives a text that says they have won something—supposedly from a mobile phone company or a radio station. To claim the prize, winners just have to do one small thing: either call or send a text to a short code. If they do this, of course, money is withdrawn from their phone account.
3. In third place is the fraudulent locking of computers. When visiting certain websites on a computer, a window will appear on the screen with a message reading: "Your computer is locked. To unlock it, send a text to number … ." People can close this window themselves, but, unfortunately, not everyone knows how. Scam artists count on this very lack of tech savvy.
4. Fourth place goes to texts with links that may be fraudulent, spam, or cost higher rates to view. For example, cell phone users might receive a text that says, "You have received a card. To view, click on the link." By clicking on the link in a text from an unfamiliar number or website with the text, a person can easily lose all of the money on his account—or even more.
5. Recently, scam artists have grown greedy, and the small amount of money on subscriber's phone accounts is too little for them. New scams have appeared that involve credit. The most common is a text with the message that a credit card has been blocked and requires personal information to be unlocked. Banks have always warned their customers to never give out their pin codes or personal information to strangers, but not everyone remembers this.
Under the new amendments to the telecommunications law, customers will now need to open a separate account to pay for additional services. Money can be withdrawn only from that account and only as much as is on that account. In the opinion of experts, the effectiveness of such measures remains an open question: It is possible that the entire market for paid mobile content could be destroyed if customers simply refuse to open a separate account to pay for applications.
Mobile phone providers themselves are trying to protect their customers from fraud, but this does not always help. "There are several basic ways for providers to protect their customers, but they all require additional actions on the part of the customers and therefore are not always effective," says Investkafe analyst Timur Nigmatullin. According to him, the most common protection is hot lines, including provider accounts on social networks.
So-called SMS lines are also used. For example, the mobile service providers Vimpelcom and MTS allow users to forward suspicious texts to a short code where they are checked by a specialist. This is confirmed by the companies. "MTS is, in fact, already complying with the law by informing customers about the cost of services, the content and meaning. For example, in 2012, we began informing customers about the cost of content subscriptions at the time of ordering, and we translated all transactions for processing orders on our website," says MTS representative Dmitry Solodovnikov. Megafon has a special website where users can get all the information on a specific type of scam and report scams to an agent.
The main way to combat scams is to block numbers used by thieves. MTS reports that, on average, they block a million messages each day. Government assistance in protecting subscribers from texting scams is welcomed by providers. "We hope that the direct legislative regulation of providing content and services will help us to combat malicious texts," says Solodovnikov.
All rights reserved by Rossiyskaya Gazeta.