Banking on six degrees of tech separation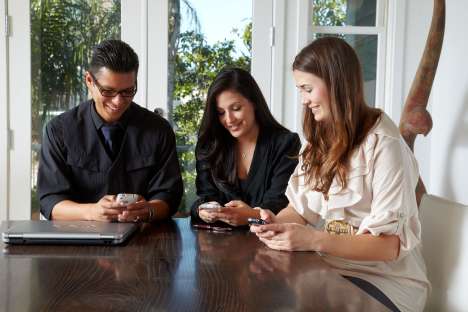 Using usarium peple can borrow things they need not only from their friends but from a complete strangers. Source: Photo Stock
Usarium lets users borrow items from friends and friends of friends.
Libraries, car rental agencies, hotels….they all operate under the premise that there are things people need or want – but only for a short time. The Russian mobile app Usarium is an attempt to bring the rental concept to a personal scale – allowing users to rent anything from a pet carrier to a tablet computer from an individual for a reasonable fee.
The project's six founders – Oleg Manchulyantsev, Ekaterina Venglinskaya, Artyom Mochalov, Nik Sivozhelezo, Anastasiya Tkacheva, and Dmitry Chernov – began working on the idea in December 2012. They spent six months doing a desk market study, researching consumer behavior and developing and testing a prototype.
The technology they developed, which they named six-hand graph, is based on the "six degrees of separation" concept, and is the app's defining feature. Most people trust friends to return items loaned to them, but are reluctant to give the same level of trust to a complete stranger.
The six-hand graph function of the Usarium app analyzes the contacts on a user's phone to find common acquaintances between borrows and lenders, allowing for peer references and counterparty reliability checks.
The new app lets people find things they need through borrowing from friends and friends of friends. Source: usarium.com
The project took off at Skolkovo, the innovation center outside of Moscow. In June 2013, Usarium became a graduate of the Skolkovo Startup Academy-3 and a winner of the Skolkovo Investors' Day. The Usarium team then went on the road and ended up with $50,000 in initial contributions from Silicon Valley investors.
Total investment has reached $150,000 to date, including contributions from the founders and business angel Ilya Kuntsevich. Usarium has bigger plans, however. They hope this initial funding will establish the credibility needed to raise financing from major venture capitalists.
An iOS app was released on July 15, followed by an Android version on Aug. 16. The app's main source of revenue is a 10 percent commission fee levied on each commercial transaction. Friend-to-friend deals are commission-free.
But even the idea of lending from someone who is a friend of a friend was not enough to assure many users that their items will return in one piece. The simplest solution to this problem is to require borrowers to pay a deposit.
More than 15 payment services offered assistance to the Usarium team to develop a deposit system, and a contract was eventually signed with PayPal. Company VP Stan Chudnovsky worked personally with the team from Russia to develop a security system for Usarium. Rather than debiting a user's account, a deposit is frozen – much like when booking a hotel room.
There are also some simple rules users should engage in when renting an item. Much like when renting a car, the borrower should look over the item in the presence of the owner and note any wear or tear.
If the item is different than how it was described by the owner, the borrower can cancel the transaction and use the app to report a mismatch between the object and the owner's description. A higher rating on the app increases the level of confidence in individual users.
The project boasts around 20,000 users at the moment. According to the co-founders, the number of installations is growing by word of mouth. Said co-founder Oleg Manchulyantsev, "People feel less and less attachment to things; they want to enjoy using them rather than own them. Plus, things become obsolete very fast these days."
Usarium counts giants such as PayPal, WebMoney, ABBYY, Microsoft, and K&L Gates among its partners. The co-founders' immediate plans include steady development and preparations for a second round of raising finance.
All rights reserved by Rossiyskaya Gazeta.