Robots to begin testing as patrols in Moscow parks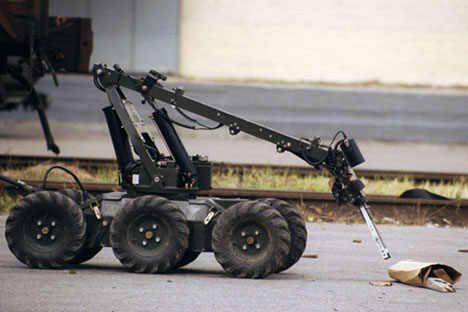 The robot has a surveillance camera. If the camera registers something moving in front of it then it automatically focuses on that object and starts to track it. Source: PhotoXPress
Devices created in Skolkovo are currently being tested in the green zones of Zelenograd and will appear in Moscow's Sokolniki in September.
Robots are starting to watch over public order in Moscow parks. The first automatic observation systems, which are capable of reacting to motion and can capture images for transfer to a remote attendant, will soon be tested in the capital's green zones.
The company and Skolkovo resident SMP Robotics developed the apparatuses, which can patrol a parameter. The director general of the company, Alexei Poluboyarinov, announced that he is prepared to provide the prototype of the robot (called "Trail Patrol") to inhabitants of Skolkovo at no cost and as early as September.
Robots are already used for patrolling public areas in the United States and Japan. Yuri Barzikin, vice president of the Russian Tourism Industry Union, thinks that the presence of robots in the capital city's parks will help visitors — including foreign tourists — feel more relaxed.
"In place of security patrols walking around in depressing black uniforms with batons, robots may be sent on the patrol circuit," says Poluboyarinov.
"The robot has a surveillance camera installed on top that can capture images up to 80 meters [about 260 feet] away. Its angle of vision is 360 degrees. If the camera registers something moving in front of it — for example, a human, automobile, or big dog — then it automatically focuses on that object and starts to track it. The patrolling itself happens because of an operator, who sees everything the robot sees via Wi-Fi and makes the decisions of whether or not to send a patrol where the movement occurred."
The robot is designed for use 24/7 and nearly year-round, in temperatures between -4 and 104 degrees Fahrenheit. It has four wheels and rear-wheel drive. The device weighs 285 pounds and moves at a walking pace of 3-4 miles per hour.
According to Poluboyarinov, the unique feature of the apparatus is that it can travel not only on asphalt but also on "unprepared territory," such as grass and forest trails.
According to the developers, the robot has already been tested in the green zones of Zelenograd (including during the winter) and demonstrated its effectiveness, even in conditions of cold or snowdrifts.
Andrei Lapshin, the director of Sokolniki Park, said that "Trail Patrol" can be allowed to patrol the parterre part of the grounds.
"The robot may be effective not so much for the guarantee of security as for control of the territory, so that everything remains in its proper place and no one paints graffiti in unauthorized places or engages in hooliganism," says Lapshin.
If the experiment is successful, it is not yet clear whether or not, or in what quantity, SMP Robotics's technology will be purchased for permanent work in recreational areas.
Other Russian companies also produce similar robotic technology. For example, the company 3Detection Labs created a police-robot called "R.BOT No. 1," and it was tested on the streets of Perm in 2007. The robot can make video recordings, announce a state of emergency by loudspeaker, provide a first-aid kit, and, with the help of a traffic baton, regulate transportation movements at intersections, or restrict movement at any point along a road.
First published in Russian in Izveztia.
All rights reserved by Rossiyskaya Gazeta.