Russian game developers drag wooden soldiers to war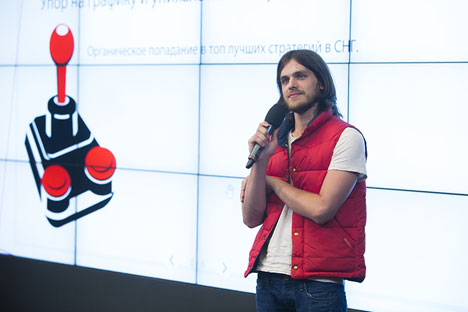 Lev Silaev, the developer of the game First Wood War. Source: Digital October
The story of how a botched job interview led to a startup.
Brothers Lev Silaev and Alexander Feher first started developing games in 2011. A mobile remake of the 1990s cult classic "Bomberman" from Hudson Soft was their first shot at glory. Far from becoming a hit, the game still brought in a tidy sum of $200.
"Of course, we didn't dream of making millions at the time — or maybe we did after all," Silaev says. "We decided not to be upset and to move on. Most importantly, we gained very valuable experience."
While they were passionate about making their own games, the developers faced a funding problem. The solution came along unexpectedly. Feher, a talented developer, was invited to interview for a job at iFree (a large Russian IT company).
He told his potential employers about the team and their desire to develop games. He did not get the job at iFree, but he did get financing for his own project — First Wood War.
A wooden world populated by funny characters that were invented by the pair has been transformed into a 3-D strategy. "Making controls easy was a priority task," says Silaev. "Imagine you're managing a lot of elements on a small cell-phone screen. The user will become irritated at the slightest inconvenience and will delete the game."
First Wood War's game space is divided between two castles — the player's and the computer's. The task is to get 10 of your soldiers into the enemy's castle. Capturing strategic road points earns additional bonuses. An ancient trebuchet is your weapon. One strike and the course of the battle can be changed for good.
The game contains quirky, modern, cultural references. For instance, you might encounter the Loch Ness monster, zombies, Native Americans, mummies and pyramids — all wooden, of course.
First Wood War was launched in April 2013 and made The Guardian's Android app list that same month. "First Wood War looks like a game with plenty to chew on for more serious gamers: a real-time strategy game with a player-versus-player online mode, impressive graphics and more than 20 battle maps to explore in its solo mode. It's all set in the woods, which brings us neatly on to..." Stewart Dredge wrote.
Downloads had reached almost a million by August 2013. The team makes money from in-app purchases that facilitate passing the game levels.
While the developers refused to discuss exact revenues, they said it was in the ballpark of several dozen thousand U.S. dollars a month. A paid HD version of the game without built-in purchases is scheduled for launch soon. The free version of First Wood War is available at Appstore and Google Play.
All rights reserved by Rossiyskaya Gazeta.