Roscosmos: The priority is to develop Russian industry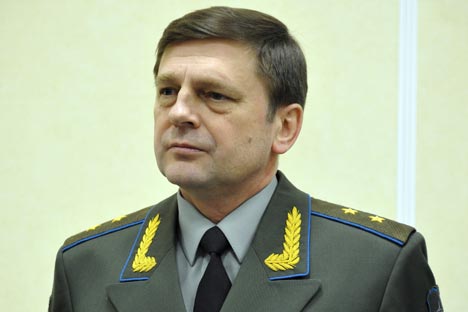 Oleg Ostapenko: 'We will provide impetus to our main business lines so as to expedite work.' Source: ITAR-TASS
Oleg Ostapenko, head of the Russian Federal Space Agency, or Roscosmos, talks about upcoming changes in the rocket and space industry, and timeframes for creating and launching new vehicles and ISS modules.
On the new Russian rocket "Angara"
"Angara" is scheduled to launch in 2014. We will gauge the feasibility of this plan after the next meeting, whereupon, if necessary, adjustments will be made.
On the mobile maritime launch platform Sea Launch
The Sea Launch facility involves several problems, above all financial. We are sorting out the situation. Several meetings were held with company representatives and at the official level. We're developing a strategy for the possible use of Sea Launch.
Destroying or selling the facility are not among the options we're considering, but rather how best to use what we have to benefit the country.
Sea Launch can help solve any tasks. Most important is sorting out the legal, financial and organizational-technical issues, in order to have a reliable vehicle. Thereafter we will look into useful payloads for Sea Launch.
On creating a super-heavyweight vehicle
It is premature to speak about specific timeframes for creating vehicles. We're working very intensively with the scientific community, holding expanded meetings literally every week and creating working groups.
We will expand our technical capabilities. In order to determine a strategy, we must thoroughly analyze business capabilities and the potential of the scientific sector. Priorities must be developed accounting for the sector's technological capabilities.
Thereafter, we aim to discuss plans at the Academy of Sciences. Our goal is to forge a serious working program, and then to submit it to the government as a qualified document. Thus, it's too early to speak about specific vehicles. We will provide impetus to our main business lines so as to expedite work.
On priorities in the technology development
I can say with total certainty: across all business lines, no matter what, I will prioritize our businesses. In all areas where our businesses operate, our scientists are capable of creating objects no worse than Western analogues.
They may be even better – we see this in many areas. This is my strategic position. Yet this isn't to say we won't work with foreign contractors or share technologies. There will be creative work with foreign partners, but the priority is to develop our industry.
On the cosmonaut training center
Our ranks of cosmonauts are an elite division, unique, unparalleled in the world. And our government does everything to provide them with worthy conditions.
First published in Russian in Izvestia.
All rights reserved by Rossiyskaya Gazeta.