Russian сosmonaut brings Olympic flame to ISS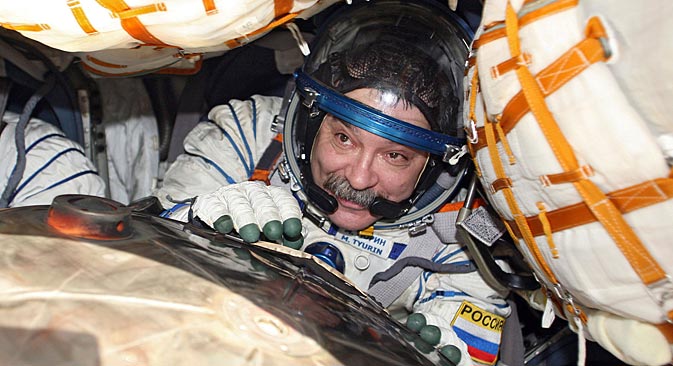 Сosmonaut Mikhail Tyurin: I have not seen any UFOs in space. Source: AP
The Olympic torch for the Sochi 2014 Winter Games reached the International Space Station on November 7.
The 2014 Olympic Games' torch will make history this month as it becomes the first Olympic flame to take part in a space walk by a team of Russian cosmonauts manning the International Space Station.
The flame arrived at the ISS on November 7, after a six-hour journey that started at the Baikonur launching site in Kazakhstan, where it was blasted off with the crew of the Russian Soyuz TMA-11M.
The crew included Russian cosmonaut Mikhail Tyurin, AmericanRichard Mastracchio and Japan's Koichi Wakata. The manual craft made the journey with the characteristic Olympic features: the launch vehicle and the craft itself were decorated with Olympic Games rings.
Tyurin performed the honors of delivering the torch to the ISS, passing it to Russian cosmonauts Oleg Kotov and Sergey Ryazansky. The torch remains unlit for safety reasons until it returns to Earth in February, when it will light the official start of the Sochi Olympic Games.
Before blasting off to the ISS, Tyurin spoke with "Rossiyskaya Gazeta."
Rossiykaya Gazeta: Mikhail, for you this is already the third flight to the ISS, correct?
Mikhai Tyurin: Earlier I was on expeditions on ISS twice. In total I spent in an orbit about a year. Five times I walked in space and once I even played golf: I threw a ball by a stick.
RG: You are qualified as an engineer. And how did you become a cosmonaut?
M.T. : Yes, I graduated from Moscow Aviation Institute, worked in Rocket and Space Corporation Energia. But to any engineer, it is interesting to have a look at results of the work. And one time I was asked,"Why don't you try qualifying for a team of cosmonauts?" I answered, "Why not?" I became a cosmonaut in 1994. In three years I was appointed to a crew. And in 2001 my first space flight took place.
RG: What is most exciting in space?
M.T. : The beauty of Earth. You want to spend all you time looking out the window. The colors are incredible! And it is impossible to be through with it.
RG: Do you take a camera with you?
M.T. : Of course, yes. Onboard there are high-quality photo and video cameras, and lenses are available. I already had my own photo exhibition "Earth: top view" in Moscow in the Central House of Artists.
RG: And is it true that from space it is possible to see, for example, the newspaper page which is read by the person?
M.T. : No, of course not. Frankly speaking, I am not sure that it comes to such a point.
RG: How do cosmonauts keep fit in zero gravity?
M.T. :On the ISS there are various gyms. Daily trainings last for two to three hours minimum.
RG: And how long is the communication signal from Earth to station?
M.T. : With a delay in half a second.Almost as in IP-telephony. But it isn't because of long distance.
RG: Can you take a shower?
M.T. : No, it is impossible. To refresh ourselves, we use wipes and towels. But the desire to have a shower over and over again forces us to experiment with various different means.
RG: While being in space, have you ever seen any inexplicable phenomena?
M.T. : UFO? Never. Moreover, I don't know any person who would say, "yes, I saw it."
First published in Russian in Rossiyskaya Gazeta.
All rights reserved by Rossiyskaya Gazeta.