Using science to build Olympic champions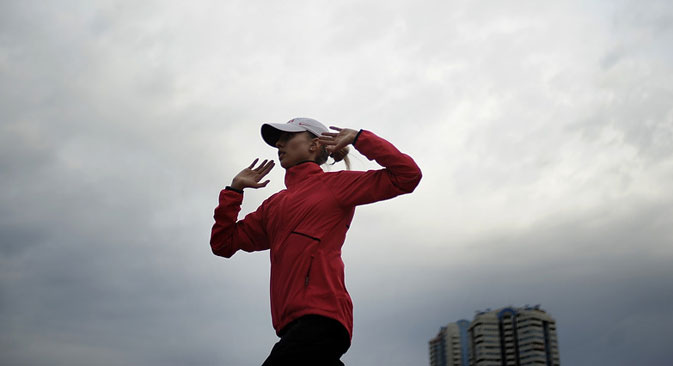 A unique research-backed system helps to create the champions. Source: Mikhail Mordasov
The head of the training center for Russia's national sports teams describes its unique science-backed system for producing Olympic champions.
According to Mikhail Shestakov, the head of the Center for the Training of Russian National Teams, Russia has an Olympic training system unlike anything else in the world. He spoke with Rossiyskaya Gazeta about his organization's method for creating Olympic champions.
Rossiyskaya Gazeta: The Soviet Union was the first country in the world to assign special-purpose research groups to national teams in order to earn top positions for Soviet athletes, but can contemporary Russian science compete with training systems used overseas?
Mikhail Shestakov: A unique and unmatched research-backed system for the training of Olympic teams has been developed in Russia. In the West, scientists hand over the results of their research to national team coaches, or coaches themselves send their athletes to labs where their performance is thoroughly examined. But what's the use of all these figures? Eventually coaches have to make their own decisions anyway.
We've developed a fundamentally different approach. Scientists are constantly in touch with coaches. Together they analyze the results of all the tests that show the condition of the athletes and then they create an entire training plan.
I'll explain this to you using the example of two research labs attached to our association — in Moscow and Sochi. These are outfitted with the world's most up-to-date equipment, allowing an integrated approach to the examination of any particular athlete and monitoring all essential parameters concurrently.
The main thing is that [the athlete's] interaction, depending on the training load, is visible on a day-to-day basis, given that the athlete's body is a concerted ensemble comprised of many "soloists." Tracking each of them at one time is extremely important. This ongoing monitoring represents a fundamentally new approach to athlete preparation.
On the basis of collected data, we build a mathematical model of an athlete's body with regard for his or her individual capabilities. Training for top future performance starts with a discussion of this model with a coach.
R.G.: Does the model reveal the results that can be expected from any particular athlete based on his or her particular characteristics?
M.S.: Not only that – the model takes into account both information on a given athlete and on his or her main opponents and their dynamics. What's our model's key merit?
Not only does it assess the athlete's condition at a given moment; it also makes it possible to forecast the future as well as what performance parameters a given person should work toward in order to be assured of any specific results.
Moreover, this model can lay out the entire path leading to these results. The whole training process is then built on this research-backed foundation.
R.G.: What's the role of a coach then?
M.S.: Each athlete responds differently and there are several different methods that could help him or her reach peak performance.
We can showcase each of these on the basis of accurate calculation and elucidate the risks involved. But as to which method to choose? This decision is made solely by the coach.
R.G.: Are coaches ready to embrace your research-backed approach, given that they have a lot of experience training champions that include their own methods and secrets?
M.S.: Almost everyone understands that the knowledge of how to get the best results in professional sports is exploding. Now you have to be updated on all these innovations, understand the gist of them, and quickly respond to new trends. These responsibilities now rest on all Olympic national team coaches.
What's more, recent experience suggests that an athlete's preparation cannot be trusted solely to a coach, even if the athlete has showed tremendous results in the past. The methods used to ensure success yesterday no longer work today and new technologies and methodologies are needed for another breakthrough.
But it is necessary to incentivize coaches and athletes to work with us; words are impotent, results are persuasive. We launched our work three years ago actually from scratch and we had to thoroughly revise all basic approaches to ensure traction between science and sports.
The point is that we work with uncommon people who push to the limit most of the time. Their bodies have to endure excessive loads and special approaches are required.
For a year, we've been collecting basic information on every Olympic athlete. And when members of our national teams saw that through partnering with our organizations they reach the level of performance predicted by researchers, their attitude to science changed dramatically – for the better.
R.G.: Is it not late to enlist science in preparation for the Sochi Olympics?
M.S.: No, it is not. The science-sports symbiosis is at work indeed. Sochi for us is the first test of our innovative training management system that needs to be further refined and harnessed.
All rights reserved by Rossiyskaya Gazeta.