Russia using cutting-edge bioresoursable vascular scaffolding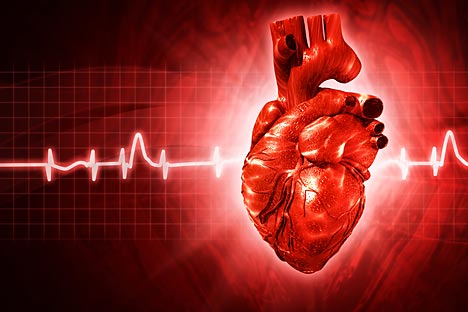 Stenting has become a routine procedure and one that is able to save thousands of lives. Source: Shutterstock
Russian heart surgeons have begun implementing the latest technology in vascular stents to prevent heart attacks and strokes.
A few years ago minimally invasive cardio-vascular surgery to prevent heart attacks and strokes and which saved people in critical situations was only carried out in a small number of clinics. Today stenting has become a routine procedure and one that is able to save thousands of lives.
However under the management of endovascular surgeons and in line with traditional metal stents, which 'open' and support constricted, diseased blood vessels, more modern implants are becoming available.
Many Russian surgeons are now using the world's first bioresorsable vascular scaffold. The stent-like mechanism restores the opening in a clogged coronary artery in the same way as a metal stent, delivering medicine to the diseased area.
The difference is that once the new stent completes its task, the scaffold gradually biodegrades. Two pairs of tiny metallic markers are all that is left in the blood vessel. During an operation these markers help to identify the vessel itself, and subsequently they can suggest to a doctor where a surgical procedure has taken place as well as helping to manage what happens with the diseased blood vessel in the future.
These types of scaffolds are already in use in 40 countries, but surgeons in Russia only started carrying out operations using these scaffolds this year.
Surgeons say that the advent of this innovative product significantly changes approaches to the treatment of patients suffering from coronary heart disease. Results of clinical research and the experience gained in using this product have shown that a blood vessel operated on in this way can retain its natural functions and elasticity as the rigid metal implant.
In 2013, Russian surgeons used the method in more than 20 clinics using this innovative procedure, and several dozen patients have undergone this operation. The number of stenting operations grows every year: in Russia 32,500 of these operations were carried out in 2008, while in 2012 the figure was 75,400.
The bioresorsable vascular scaffold is made from polylactide — a naturally biodegradable material widely used in surgery for temporary internal sutures, said Viktor Demin, the head of the X-Ray Surgery Department at Orenburg Regional Clinical Hospital.
"The new innovation has another advantage: the scaffold delivers medicine to the diseased area, which gradually separates out as it is dissolved. The medicine does not dissolve the deposit, but blocks the growth of cells leading to the blood vessel becoming constricted once again – restenosis," he said.
In this way the risk of restenosis as well as the need for repeat stenting or for a more serious aortic-coronary by-pass operation can be reduced to less than 5 percent – this effect lasts for many years, he said.
"We can see these results using insoluble stents with a medicinal covering. In general though the body's reaction to the stent is a complex process, which not only incorporates the potential for restenosis itself, but also for so-called neoatherosclerosis. These processes continue to be the subject of intensive study," Demin said.
There are many positives to this new approach to treatment: the blood vessel that has undergone the operation is able to expand or contract to increase blood flow to the heart in response to physical activity.
Apart from that these patients respond better to variations in pressure due to changes in the weather. They are also less reliant on prolonged treatment using anticoagulative drugs. Moreover any potential surgical procedures will not be hampered by the presence of a permanent implant.
First published in Russian in Rossiyskaya Gazeta.
All rights reserved by Rossiyskaya Gazeta.