Will Russia's first anti-smartphone revolutionize the market?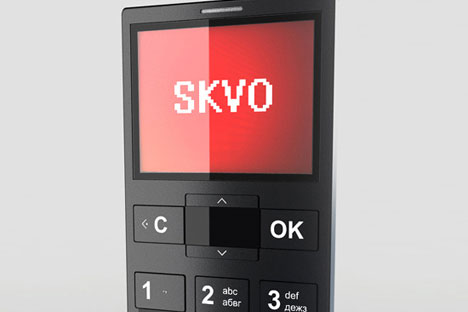 A Russian IT-company promises to develop a new gadget with minimum functionality and big potential.
Skvone – a new Russian anti-smartphone. Source: Press Photo
Trailer Studio, a Russian maker of short video adverts, has announced the development of a new phone called Skvone. Described by the company as an "anti-smartphone," the gadget has a bare minimum of in-built functionality, and relies on wireless communication with a tablet computer for heavy duties.
A special app for iOS, Android, Mac and Windows will allow the user to manage contacts, alarms and text messages, view an extended calls list, and change ringtones. The phone communicates with the host tablet via Bluetooth.
Skvone is quite compact (95 x 45 x 7 millimeters), with large physical buttons and large fonts – exactly what is needed for children, elderly people, and big-fingered users. The back cover is made if aluminum, and the front is designed in "expensive matte plastic." The non-removable battery is charged via a micro-USB port.
Users will also have access to a firmware design kit that can be used to augment the phone's functionality, and each user will be able to build a modified firmware version tailored to his or her own needs.
"A growing number of people always have a tablet computer with them wherever they go," the developers said.
"As a result, all the things the tablets can do no longer need to be duplicated in a mobile phone. But phone developers just ignore that; they keep cramming more and more processing power and functions into mobiles, thereby damaging a phone's main functionality, such as length of operation on a single charge, quick and smooth navigation, and ergonomics."
The new phone can also be used without synchronizing it with a tablet. It has physical buttons, but lacks the camera, menu, screen animations, or complex settings. Apart from making calls and sending/receiving text messages, the phone can be used as an alarm clock, and it can be set to vibrating instead of ringing.
Thanks to a unique technology of detecting static electricity on human skin, the phone will "know" when the user picks it up, and automatically unblock itself in two seconds.
Hipsters who never leave their home without a tangle of cables in their backpack will probably think this is science fiction, but the phone will be able to work for 30 days on a single charge in standby mode. Developers say Skvone will be released in the autumn of 2014.
All rights reserved by Rossiyskaya Gazeta.