Russians hack Instagram to create new service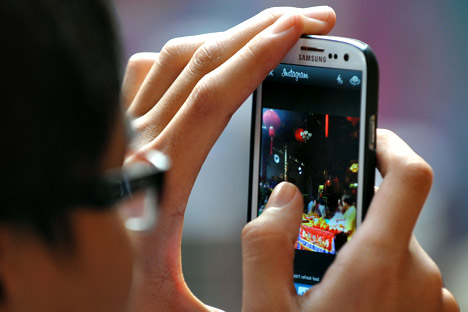 Travchuk: "I think Instagram realizes that they are going to benefit from what we are doing, so they are not going to block us." Source: Shutterstock
The service developed by the hackers, Instapult, would allow the automation of posts to Instagram.
A group of Russian programmers has launched a new service called Instapult that automates the publication of content on the popular photo-sharing site Instagram. Instapult allows users to work with several Instagram accounts at the same time, as well as to prepare posts in advance and schedule their release.
However, unlike other social networks such as Facebook, Instagram does not have a public Application Programming Interface (API), which would allow posts to be made from third-party sources.
In order to create the new service, Dmitry Trachuk and his co-programmers had to hack Instagram's software.
"The Instagram public API does not have message posting functionality," said Trachuk, explaining how he developed the software for Instapult. "But there is also a non-public API, which they use for their own work. We are using the non-public API."
Instagram could block Travchuk's access to the site. The company has said that if an application violates the API terms of use, the company will first try to cooperate with the developers. But if they fail to reach an agreement, the developers will be denied access.
Travchuk is sure that his application will not be blocked.
"I think Instagram realizes that they are going to benefit from what we are doing, so they are not going to block us," Travchuk said.
Instapult can be useful to Social Media Marketing (SMM) specialists, who have to maintain several accounts at the same time.
Anton Korobkov-Zemlyanskiy, head of the media agency Legend, said there is obvious demand for an Instagram automation service – especially among SMM agencies that manage social media accounts on the service for large companies. At the moment, Russia now has 10-15 large SMM agencies, and 50-70 smaller ones.
Additionally, it is not unheard of for large Internet companies actually to encourage talented hackers and even to offer them jobs. There is the possibility that Instagram's parent company, Facebook, could make the developers an offer for the new service.
But Korobkov-Zemlyansky is not optimistic about the changes of this scenario.
"Instagram is not always user-friendly, and there is a certain need for automation software. But I don't think they will be able to reach an agreement with Instagram. There have already been several precedents of Instagram blocking such solutions."
Denis Terikhov, managing partner at the Social Networks agency says he is not aware of any Instagram automation services – but that his company has managed to get Instagram's consent for the development of such a service.
All rights reserved by Rossiyskaya Gazeta.