Neurosurgeons and software engineers team up to fight brain cancer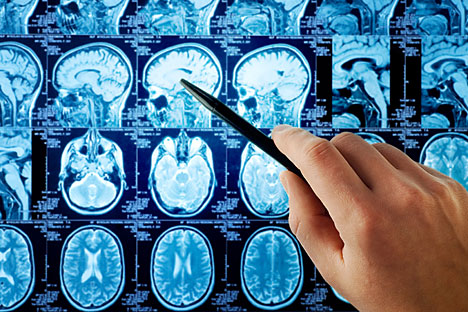 New software can be of use in the treatment of not only cancerous brain tumors, but also with vascular pathologies. Source: Shutterstock
Neurosurgeons and IT developers from Russia have joined efforts to create Brain Target software. This software makes it possible to visualize and measure residual brain tumors and to monitor the dynamics of cancer.
A team of young Russian neurosurgeons and IT developers has created new software that helps to visualize and measure residual brain tumors as well as to monitor their dynamics. Brain Target can also help to prevent brain hemorrhages in treating arteriovenous malformations, a congenital vascular anomaly.
"When I graduated from medical school, I got the idea of creating something that would allow doctors to make objective decisions in risky situations that might threaten a patient's life and health," says Gleb Sergeyev, a neurosurgeon and the author of Brain Target's algorithm.
A targeted strike against cancer
Surgery does not always help a patient to get rid of the tumor. Even if the operation goes well, it is still necessary to monitor any changes in the brain. A tumor cannot always be fully removed because surgery might affect the functionality of significant parts of the brain. In order to eradicate any remnants of the tumor a patient receives chemotherapy.
Traditionally in Russia, the degree to which a tumor has been removed is assessed "approximately," based on the strength of the surgeon's experience and on a post-surgery MRI scan. However, such an assessment is subjective. It is sometimes very difficult to make out the remnants of a tumor, as blood, hemostatic agents and tumor fragments all have more or less the same color on an MRI scan.
Brain Target software has the potential to help in solving this problem. The program simultaneously processes different MRI images, which produces a combined version that is then examined by a neurosurgeon. In Brain Target, all of the above-mentioned elements have distinct and different colors.
The software can be of use in the treatment of not only cancerous brain tumors, but also with vascular pathologies. For example, during an arteriovenous malformation embolization, the program can assess to what degree it is excluded from blood circulation in order to prevent a hemorrhage.
Brain Target identifies the danger zones
The software has been tested at the neurosurgery division of the E.N. Meshalkin Research Institute of Blood Circulation Pathology in Novosibirsk. "We checked patients immediately after surgery and identified areas where tumors could re-emerge in the future," says Brain Target's Sergeyev.
"After six months or a year, we checked them once again. Practice has shown that Brain Target clearly identified dangerous zones."
Positive feedback on the program has already been received from another Novosibirsk clinic and from the medical center at the Far Eastern Federal University. The results are promising, but to ensure that this software is introduced at every clinic, a multi-purpose study is needed as required by Russian legislation.
The program must be used to analyze the MRI scans of approximately 1000 patients accompanied by a random clinical study. Only then will the project team be able to register the software and begin distributing it. Brain Target aims to distribute first in Russia and then worldwide.
Bringing the cost of cancer treatments down
Only around 50,000 brain tumor surgeries are performed in Russia every year. In China 350,000 surgeries are performed annually, while in the USA the number is about 100,000 and 25,000 in Canada. There is a reason for the limited use of the procedure in Russia.
In Russia neurosurgeons operate on patients according to a federal quota. Some operations are paid for privately, although few patients can afford them. For example, in Moscow, such a surgery can cost from 900,000 to 4.5 million rubles (approximately $25,000 to $125,000). For most Russians, this is far from affordable. A significantly higher number of cancer patients are in need of help and might benefit from this new software.
The Brain Target team is currently looking for funding to finalize the software component and to transform the prototype into a final version of the product. They are seeking 5 million rubles (approximately $139,000).
The program has already been used to study roughly 50 patients. In all of those cases, Brain Target successfully identified the remnants of cancerous tumors. It has 100-percent sensitivity and hemostatic agent specificity and shows a very high potential for consistent results.
All rights reserved by Rossiyskaya Gazeta.