'A useless piece of garbage; I'll buy it of course, just to see for myself'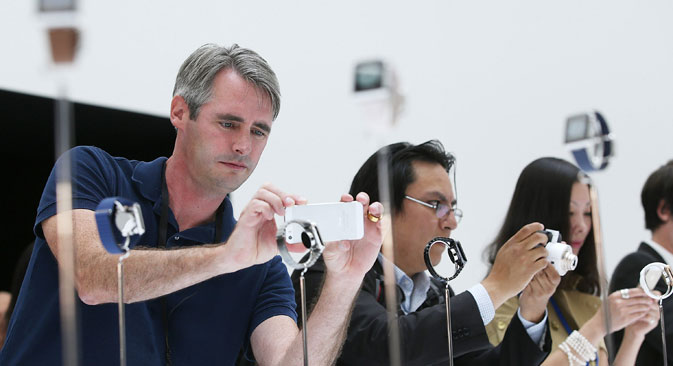 Apple has unveiled the iPhone 6 and 6 Plus on September 9. Source: Getty Images / Fotobank
Apple has announced the release of two new mobile phones, its 'smart watch', and its own payment system. Russian social networking users have responded to the news with a mixture of skepticism and humor, as RBTH discovered.
On September 9, Apple introduced two new phones – the iPhone 6 and the iPhone 6 Plus, as well as its own Apple Watch 'smart watches', and the Apple Pay contactless payment system. Although the products will not hit the stores until 2015, customers will be able to place pre-orders from September 12. Unimpressed by the new features, Russian social network users lost no time in poking fun at the gadgets' appearance and technical characteristics.
iPhone 6
Prior to the event, expectations were high. Many hoped for increased functionality:
"Will the iPhone 6 have a built-in bottle opener or not?"
After the demonstration of the large iPhone 6 Plus, the Russians complained that the newest 'shovel' (as Russian call phones with large screens) among mobile phones has arrived:
"This is punishment to Apple users for calling Samsungs 'shovels'."
Meanwhile, the gist of product presentations by Apple was captured well by the illustrator of this scene:
"You know, we were afraid to say it, but ... the old iPhone was ****"
Apple Pay
Prospects for the development in Russia of the Apple Pay payment service have also been met with skepticism:
"Payments using the iPhone will work in Russia: C'mon, show me your mobile! Wow, the iPhone! Get over here!"
Another Twitter user tried to seize the moment:
"CONTEST: Take a photo with your credit card on both sides, come to our address and get a chance to win the iPhone 6"
Apple Watch
But the main excitement was caused, of course, by Apple's 'smart watches'.

People are disappointed that they do not work separately from the iPhone:
"The clock does not work without the iPhone, iPad, MacBook, iPod, MacPro, iTunes, iMac, Safari, Beats, the complete discography of the Beatles and the blood of a lamb."
And the screen is too small to control with the fingers:
"Sixty percent of the Russian population will not be able to use these watches – you need to get thinner fingers first:"
The new opportunity to share your pulse via the watch proved popular:
"I'm just waiting for the following headline: 'Hackers Leak Cardiograms of Hollywood Stars to the internet'."
Finally, common sense triumphed over marketing:
"What a useless piece of garbage your Apple Watch is. I'll buy it of course, just to make sure for myself :)"
All rights reserved by Rossiyskaya Gazeta.