A looming asteroid threat isn't bringing Russian and American scientists together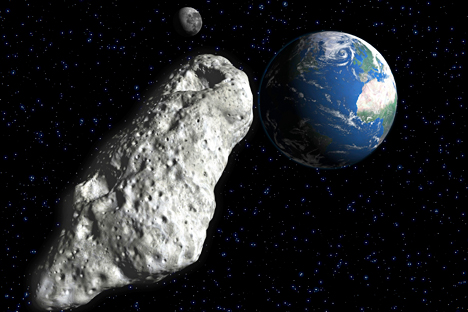 Astronomers from NASA warn that Earth is threatened by Asteroid 2004 VD17. Source: AFP / East News
Russia and the U.S. continue to collaborate in the field of cosmic research. However, it seems that they will be tackling the problem of asteroids, which threaten the entire human race, on their own.
Until recently it seemed that collaboration between Russia and the U.S. in space was continuing. At the end of September 2014 Russian cosmonauts Alexander Samokutyaev and Yelena Serova and American astronaut Barry Wilmore flew together to the International Space Station.
Most of the integrated experiments are to be conducted with the combined participation of the Russian and American teams. However, Russian and American scientists do not see eye-to-eye with regards to confronting the looming asteroid threat, the first of which may hit Earth as early as 2032. John Hopkins University and the Russian Space Research Institute propose different solutions to save the planet.
Astronomers from NASA warn that Earth is threatened by Asteroid 2004 VD17. They predict that it will pass by our planet on May 1, 2032 at a distance of 3,000 kilometers (1,900 miles). In 2094 another Asteroid could approach Earth, coming within 4,500 kilometers (2800 miles). In 2182 Earth risks coming into contact with Asteroid 1999 RQ36 and Asteroid 1950 DA in 2880.
A collision with any one of these celestial objects could provoke an explosion capable of destroying civilization as we know it. According to NASA, between 2017 and 2113 a total of about 400 astronomical entities could collide with our planet.
In 2013 researchers at the Department of Applied Physics at John Hopkins University announced the commencement of a project dedicated to changing the trajectory of asteroids' flight paths. The main component of this project is a rocket, which will be launched to strike at and prevent asteroids from approaching Earth by knocking them off their course. The project's approximate cost is $350 million and the research has already received the support of NASA and the European Space Agency.
Russian scientists at the Russian Space Research Institute have also developed a way to confront asteroids. They propose altering the orbits of dangerous asteroids by making them collide with smaller asteroids.
This plan would require the launching of spacecraft with light-powered rocket engines that could attach itself to a small asteroid and direct it towards Earth's gravitational field. Once it comes close enough to Earth, gravity would propel the smaller asteroid into the bigger one that threatens the planet. Russian scientists think that this technique would be more cost efficient than the one proposed by their American colleagues.
"The probability of the dangerous asteroid changing its course upon colliding with a smaller asteroid is greater than if struck by a rocket," says Natan Eismont, senior scientific collaborator at the Russian Space Research Institute and one of the project's developers. "Moreover, our project will not require as many resources."
How will Russia and the U.S. divide space?
The U.S. has said recently that it would like to reduce its dependence on Russia in the field of space. Yet, according to NASA Representative Joshua Buck, the agency does not intend to halt its collaboration with the Russian Federal Space Agency.
"Space cooperation has been a hallmark of U.S.-Russia relations, including during the height of the Cold War, and most notably, in the past 13 consecutive years of continuous human presence on board the International Space Station," Buck says.
"Ongoing operations on the ISS continue on a normal basis. We have not received any official notification from the Government of Russia on any changes in our space cooperation at this point."
However, NASA recently decided to limit cooperation with Russia and sign contracts with Boeing and SpaceX for the construction of piloted reusable spaceships. The total is estimated at $2.6 billion with SpaceX and $4.2 billion with Boeing.
All rights reserved by Rossiyskaya Gazeta.