Piligrim XXI aims to reconstruct Russian history for modern reality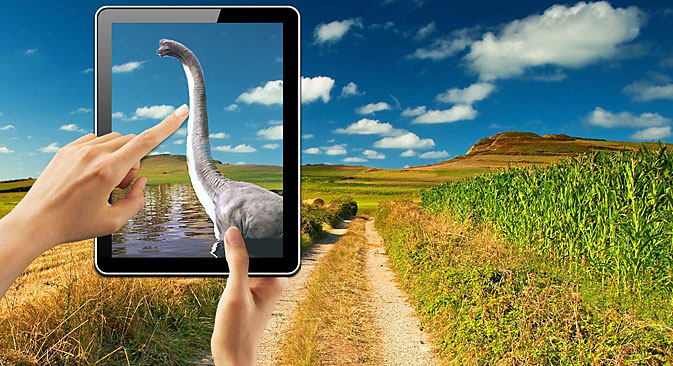 The Piligrim XXI creators have managed to reconstruct bygone landmarks and past events by installing virtual three-dimensional models and real landscapes. Source: Press Photo
Piligrim XXI, an augmented reality app, is preparing to launch on the world tourism market. This app allows users to reconstruct lost landmarks and historical events. According to the app's developers, this service has the potential to breathe new life into the Russian tourism industry.
Peoples and civilizations that disappeared from the face of the Earth long ago can be seen today with the help of augmented reality services. One of them is Piligrim XXI and it was launched in Russia in 2014.
The app's creators have managed to reconstruct bygone landmarks and past events by installing virtual three-dimensional models and real landscapes over vast areas that can cover more than 1.5 hectares.
According to the project's co-founder Diana Sorina, the app transports entire architectural ensembles to the modern day and allows users not only to see landmarks from the outside, but also to walk around inside of them.
"Our main task was to create a platform that allows you to manage augmented reality objects anywhere in the world with the help of markerless positioning technology," Sorina said.
The Piligrim XXI service is developing rapidly. Its team plans to launch 15-20 new locations within the next year to help them foster brand recognition among travelers around the world.
Industry experts believe that the project has potential. Alexander Sizintsev, the CEO of one of Russia's largest tourist service companies, Biletix.ru, thinks that informative and exclusive travel content is of interest to a very wide audience.
"This is a feature that a whole lot of online travel projects are lacking right now," Sizintsev says. However, he believes that a key question is how to monetize this content. "A widespread problem is that the majority of ordinary users lack understanding of this brilliant, unconventional technological solution, which in many cases is ahead of its time," Sizintsev continues.
"If the Piligrim XXI creators manage to tackle these complicated challenges, they will capture the interest of the widest audience, from Internet users to investors."
The Microsoft Seed Fund provided a grant to develop the Piligrim XXI program and the Seed Investment Fund of the St. Petersburg Administration Economic Development Committee also contributed resources.
In May 2014 the company created the first virtual open-air museum on the ruins of the Livonian Order castle in Ludza, Latvia at the request of the Latgale Region Development Agency. Now there are plans to create a network of virtual augmented reality parks in Russian regions and in Europe.
However, according to Sorina the search for financing on the Russian market is fraught with problems.
"Countless architectural landmarks were destroyed in Russia during tragic historical events," Sorina says. "All of this wealth could restore and breathe new life into domestic tourism infrastructure." She thinks that it is especially important for regions that were damaged and rebuilt after World War II.
"But it's very difficult to get investors interested in this idea in Russia," Sorina continues. "As it turns out, it was easier to get financing to reconstruct the Ludza Castle in Latvia."
By Sophie Terekhova, Russian Startup Rating, special to RBTH
All rights reserved by Rossiyskaya Gazeta.