Innovations 2.0: The technology sector is preparing for a reset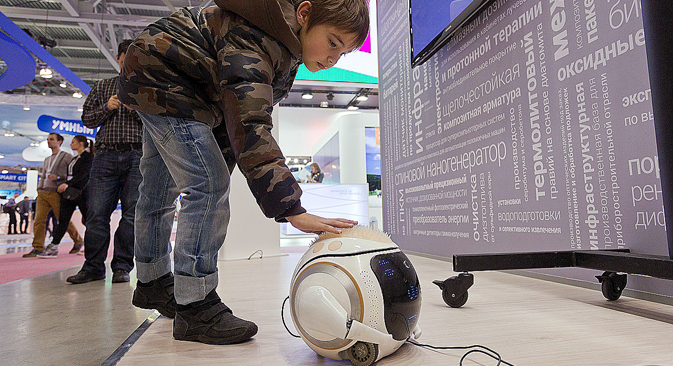 Russia is seeking national independence in the field of innovations. Source: Press photo
Participants of the Open Innovations Forum, held in Moscow October 14-16, believe that cooperation between Russia and the EU will continue in the research phase. However, in the coming years Russia's priority will be to develop its own technologies.
Russia is moving to a new stage of development that involves import substitution and the development of its own technologies in most sectors. One of the government's priorities will be to support startups. The new idea is called "Innovations 2.0." Russia's chief partner will be China, although collaboration with the EU will also continue in the area of research. Russia will strive to achieve full national independence in the IT sector.
Isolation could equal innovation
Russian Minister for Open Government Affairs, Mikhail Abyzov, believes that Russia must improve its level of technological development. The "Innovations 2.0" concept would boost import substitution and startups in businesses related to large companies such as Apple and Microsoft.
In the last three years Russia has been one of the top five countries in terms of venture investment volumes, according to Dow Jones VentureSource. Igor Agamirzian, CEO of Russian Venture Company, says that the breakthrough occurred only in the last few years. However, the activity of Russia's largest state companies, especially in the energy sector, is strictly regulated, which makes developing startups impossible.
Nevertheless, Russia's isolation from import technologies will stimulate their development in Russia, said Abyzov. Oil and gas companies, in the minister's words, are already starting to utilize domestic engineering. The government will stimulate private companies financially to use startups in order to make the creation of innovative products more advantageous, added Abyzov at the forum. State companies will be forced to adapt and subjected to so-called methods of "innovative compulsion."
IT and microelectronics: is import substitution possible?
According to Russian Minister of Communications and Mass Media, Nikolai Nikiforov, Chinese companies are now actively entering the Russian market. Cooperation with them will develop in various directions, including software engineering and the creation of supercomputers. In 2015 the city of Ufa will host the Shanghai Cooperation Organization Summit and a meeting between the BRICS leaders. "For the Russian IT industry this will be an opportunity to articulate its plan in the context of the global market and take a step towards a multi-polar world," said Nikiforov.
Participants of the forum also discussed America's refusal to supply computer software to Russia, as well as the introduction of domestic software engineering. "National independence is unthinkable without the fundamental components of the IT industry, such as database management systems and software," said Igor Boichenko, General Director of Russian software developer Relex. "We are becoming hostages of someone else's ideas." In Boichenko's words, Russia needs its own technologies since the attempt to create clones of American products was "pitiful." According to the Director of InfoWatch, Natalya Kasperskaya, Russian developers have already discussed the import substitution project and are ready to invest and create their own technologies. However, many things will have to be created from scratch. This is not always favorable for companies, many of whom until recently preferred American products.
Private space companies are now having difficulties with the import substitution of microelectronics. Satellite producer Dauria Aerospace until recently had worked with foreign components. The domestic element base was designed for apparatuses weighing more than 100 kilograms, which means that these solutions cannot be used in small components. Dauria Aerospace Project Director Nikolai Vedenkin says that some elements will be created in Russia.
Russia and the EU will continue cooperation in the research phase
Despite sanctions, Russia and the EU countries will continue their cooperation in the field of scientific research, which will be a good basis for the future according to Wolfgang Dik, Director of the Economics and Science Department at the German Embassy in Russia. In his words, there are currently more than 100 joint Russian-German university programs. He believes that it is necessary to expand this "sanction-free" zone and the partnership within it in order to lay a beneficial foundation for the future.
Sergei Chernyshev, Executive Director at Zhukovsky Central Aerohydrodynamic Institute and the developer of new aviation technologies, remarked that Russia and the EU would continue sharing information. In his words, institutes will collaborate and provide each other with information on the commercialization of technologies and their markets.
Many European programs are interested in Russia's participation. This statement was made during the forum by Pekka Soini, General Director of Tekes, the Finnish Funding Agency for Technology and Innovation. Soini said that Russia is Finland's biggest partner in the Arctic Seas Program, whose principal goal is to stimulate the development of business and new ecologically clean technologies in the region. The program will be in effect from 2014-2017 with a budget of 100 million euros.
All rights reserved by Rossiyskaya Gazeta.