Did comets bring water and primitive organisms to Earth?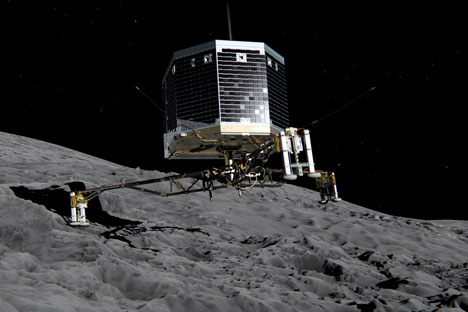 Europe's Rosetta space probe was launched in 2004 with the aim of studying the comet and learning more about the origins of the universe. On Wednesday, Nov. 12, 2014 the Philae lander detached from Rosetta and started it's descent to the 4-kilometer-wide (2.5-mile-wide) 67P/Churyumov-Gerasimenko comet. Source: ESA
Robotic space probe Rosetta's target comet was discovered in 1969 by Soviet astronomer Klim Churyumov and his student Svetlana Gerasimenko.
This month, the European Space Agency's (ESA) Philae lander detected organic molecules on the Churyumov-Gerasimenko comet that may be the basis of life on Earth. An analysis of these molecules may provide answers as to whether life was introduced to our planet or whether it emerged spontaneously.
Klim Churyumov and graduate student Svetlana Gerasimenko discovered the comet in 1969. At the time, the Soviet astronomer was convinced that there was life beyond Earth and that it could even have inorganic origins. Some theories and preliminary estimates made by Churyumov in the early 1970s have been already confirmed by Philae.
An accidental discovery
On Oct. 23, 1969, Churyumov discovered a new celestial body while studying photos of the 32P/Comas Sola comet taken by his student Svetlana Gerasimenko at the Fesenkov Astrophysical Institute in Almaty, Kazakhstan.
The Soviet astronomer detected a small fragment in the extreme corner of one of the shots. At first, Churyumov and Gerasimenko thought it was part of the Comas Sola comet. However, after studying the rest of the photos, they realized that the "fragment" was moving along its own trajectory. In other words, it was an entirely separate comet. The new comet was designated 67P and is also known as Churymov-Gerasimenko.
It takes less than 200 years for a celestial entity to orbit around the Sun. Later, after studying the comet thoroughly with the help of other more detailed photos, Churyumov and Gerasimenko realized that their comet has an irregularly shaped dual core with a volume of about 25 cubic kilometers.
Thanks to Churyumov's and Gerasimenko's accurate calculations, scientists are able to continue studying the composition of the comet's core using the Philae lander. Now scientists are analyzing the data to determine the exact makeup of the compounds discovered there.
A difficult journey
It was a lot more difficult to fly out to the comet than it initially seemed. In 2004, after Rosetta was launched, the plan was for the chaser to perform three gravitational maneuvers within Earth's orbit and another within Mars' orbit. By doing so, it would have been able to gather the speed needed to catch up to the Churyumov-Gerasimenko comet and follow near it for several months without having to undertake any major efforts. Maneuvering allowed Rosetta not only to pick up speed, but also to fly very close to the Steins and Lutetia asteroids, take unique photos of their surfaces and gather new scientific information.
Rosetta's deployment of Philae to land on Comet 67P/Churyumov–Gerasimenko. Source: ESA
On its entire journey to the comet, Rosetta has flown 6.4 billion kilometers and circled the Sun five times. In May 2014, astronomers from the European Space Agency finished the last of 10 maneuvers scheduled for the entire period and started to equalize Rosetta's speed and trajectory. The work was performed without a hitch and Rosetta came extremely close to the comet.
The first data sent back to Earth confirmed the preliminary calculations made by Churyumov and Gerasimenko. The comet has a mass of 1,013 kilograms and its rotation period is 12 hours and 24 minutes. The information also proved the Soviet astronomers' assumptions - the comet's orbit has changed several times.
A convenient comet
The Churyumov-Gerasimenko comet is currently the easiest comet for scientists to study. It is located 405 million kilometers from Earth, meaning that the bulk of it is moving from Jupiter to Mars. Its closest point is currently between Mars and Earth and its "tail" has yet to reach Jupiter.
The Rosetta chaser will be with the comet for more than a year, during which time scientists hope to gather as much information as possible. Right now, astronomers are primarily concerned with one question: did comets really bring water and primitive organisms to Earth?
Put another way, were comets the primary source from which organic life originated?
Seventy-seven-year-old Churyumov continues to believe that other civilizations are out there and thinks his comet is the best fit for delving into this question. Despite his age, Churyumov still teaches at Kiev State University where he continues his research. He also runs the Kiev Planetarium.
All rights reserved by Rossiyskaya Gazeta.