Private businesses prepare to explore outer space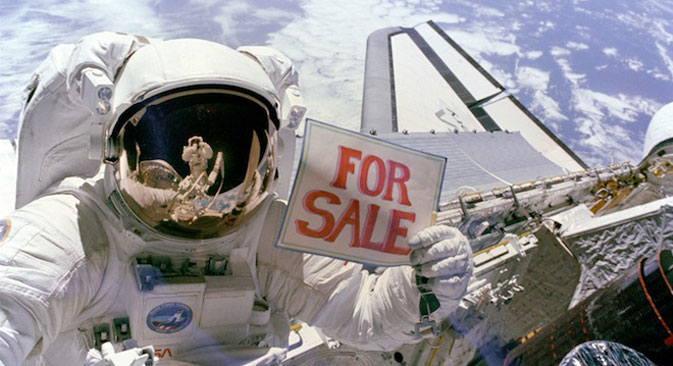 According to Roscosmos, the global market for space services is worth around $250-300 billion. Currently, the key consumers are state-run companies and federal agencies. Source: NASA.org
Russian space exploration projects, particularly ones centered around building satellites and humanoid robots for use at space stations, are going to be implemented with the help of private business.
At the end of November 2014 Mikhail Kokorich, the director of private Russian satellite producer Dauria Aerospace, proposed a new business project for the Russian portion of the International Space Station (ISS). He wants to start delivering nanosatellites to the ISS using a booster rocket and later put the satellites into orbit for clients.
In Kokorich's opinion, miniature satellites will make it possible to generate extra funds to develop the Russian space industry. This new service was scheduled to be implemented in 2019, but because Russia is planning to abandon its use of the ISS in 2020, it is unclear whether the project will come to fruition.
Until recently, space programs in Russia were the prerogative of the government. However, several space companies have already managed to prove themselves on this market. In addition to Dauria Aerospace, another promising company is Scandex, which supplies satellite images for maps for Yandex and Russia's Federal Service for State Registration, Cadastre, and Cartography (Rosreestr).
Who needs a private space industry?
The Russian government has plans to gradually transfer the Low Earth Orbit to private businesses, says Denis Lyskov, deputy director of the Russian Space Agency (Roscosmos). However, he added that it would be difficult to commercialize deep space research anytime in the near future.
"Today we are investing huge amounts of funds into the development of space technology," Lyskov said. "Private companies will get involved at the commercialization stage. But federal agencies need to move further and study the Moon, asteroids and missions to Mars."
Roscosmos will submit a draft of the 2016-2025 Federal Space Program to the government in the coming week. According to the agency's deputy chief, this program will give entrepreneurs the opportunity to learn about upcoming technologies and take advantage of them to create their own products.
"We are interested in learning about the ambitions, ideas and the undertakings of private businesses," Lyskov told RBTH. "We are willing to support them so they can create healthy competition for the government in space in the future."
Among prospective areas of development for private companies are navigation, communications, surveying and robotics. For example, during his presentation at the Robotics Days forum in Sochi on November 21-23, Lyskov said remote-controlled humanoid robots might be used to shoulder some of ISS' work, like in the movie "Avatar."
Some steps have already been made in that direction, with the creation of a robot called SAR-401, which Russia's Android Technics Scientific Production Association developed in 2013. SAR-401 can imitate human actions, mostly via remote control.
Who will buy private space services?
According to Roscosmos, the global market for space services is worth around $250-300 billion. Currently, the key consumers are state-run companies and federal agencies. "These are services, not the creation of spacecraft and rockets," Lyskov clarified.
There are not many private players in Russia that could make use of space services. But Vasily Belov, the senior vice president for innovations at the Skolkovo Foundation thinks Russian startups could eventually be sought after worldwide, because demand for technology in the commercial space industry is growing. "High-profile projects at corporations like Google stimulate the development of that market," Belov said. There are currently more than 100 companies in Skolkovo's space cluster.
Google finances private space technology. For example, it has offered $20 million to any private company that manages to send a robot to the Moon by the end of 2015. In 2011, the search engine promised to finance a space elevator project that would deliver passengers from Earth to space. In November 2014 Google leased the Moffett Federal Airfield from NASA for $1.6 billion for a 60-year period.
According to Belov there is much potential at the intersection between space and agriculture. "For example, there is exact farming technology, which is when an image from space allows you to analyze soil layers up to several meters deep," Belov said. "When machines put fertilizer in the soil, agricultural technology works according to an image from space and ruts are opened where they need to be opened." With exact farming technology, farmers can conserve up to 40 percent of fertilizer, which is the main expense in agriculture.
Belov used the analogy of the AppStore's significance for apps to explain the importance of the GLONASS navigation system for space startups. "Russia already has platforms, satellites and data created by the government," Belov said. "Industrial applications can be created around them. They could be forecasting prices, analyzing ore reserves at ports and much more. It would be a positive development if a lot of inventors started working in this new area."
All rights reserved by Rossiyskaya Gazeta.