How to create a 3D world?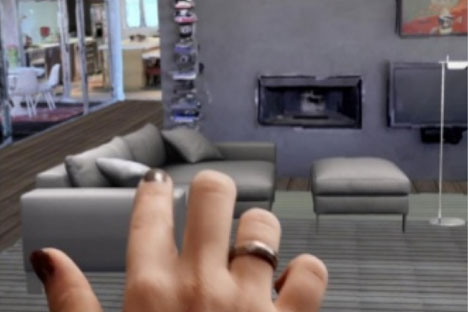 The developers of the GeoCV app for producing 3D building models are looking ahead into the future. They want to create a 3D world and are developing applications for devices that are yet to hit the market.

3D model allows to virtually view the room from any angle and to make any changes in the interior. Source: Press Photo
The idea of the GeoCV mobile app was born when its authors noticed the contradiction between how we perceive the world and how it is presented on most digital devices. Photographs, layouts and even 3D models are still displayed on 2D screens.
Yet, in the opinion of GeoCV CEO Anton Yakubenko, a graduate of the computer graphics laboratory at Moscow State University, a global 3D revolution is coming. Starting in 2015, smartphones and tablets will have 3D options. GeoCV is creating a mobile application for mobile devices of the future.
"The world will get used to it"
The main purpose of GeoCV is to give users photorealistic 3D interior models easier, quicker and cheaper without the help of special equipment or specialists.
GeoCV can be used to scan an apartment or office with a 3D model available on-line. The virtual space can be studied from any angle. All measurements can be made remotely and different interior design options can be tested.

3D modeling can be used in architecture. Source: Press Photo
The authors of the application are convinced that new ways of using 3D content will emerge in the near future. Mobile devices fitted with 3D sensors will become widely available.
"In a few years the world will get used to the idea of a 3D world, just as people got used to color photos replacing black-and-white ones," said Yakubenko. "Large companies like Google, Apple and Samsung will put a 3D scanner in the pocket of every person. We want to become the equivalent of Kaspersky antivirus software in 3D scanning." However, these are long-term ambitions.
It's all about real estate
At the moment GeoCV is focusing on practical tasks. Their first potential clients will likely be coming from the real estate sector. They are targeting this niche with virtual 3D tours for selling or renting out properties.
The GeoCV developers conducted a poll among real estate agents and 70 percent of them expressed an interest in 3D visualization, which would make it easier for them to attract customers.
Insurance companies also find it easier to work with 3D documents than with photos and written inventories. Used by interior designers and companies selling furniture and construction materials, GeoCV will make it possible to survey and measure a property quicker. Three-dimensional models can also be used in planning interior design and renovations.
GeoCV hopes to enter the global market, particularly the U.S. There are approximately 130 million properties in the U.S. that could benefit from this technology. The startup has the goal of getting GeoCV 3D models made for at least five million of those properties.
Yakubenko says that GeoCV can be used in many other sectors ranging from virtual museums and computer games to robot navigation.
"We want to blow our competitors out of the water"
GeoCV is currently looking for experienced developers in the areas of computer vision and industrial design. According to Yakubenko, there are not many of them in Russia. "We have already looked at hundreds of resumes and conducted dozens of interviews, but we refuse to lower the bar," Yakubenko said.
"We want to build the best startup team in computer vision. With a team like that we will be able to blow our Russian and international competitors out of the water."
Currently, the Russian startup is at an early phase of development, moving from a raw prototype to an operational version. Within a year it plans to release a public beta version and carry out a series of test sales. GeoCV hopes to break even by the end of 2016.
Yakubenko is inspired by the success of Magic Leap, a startup that is developing a wearable device for creating virtual objects in a real environment. Google has invested $542 million in the project.
"We knew from the very beginning that our project wouldn't be produced overnight," Yakubenko said. "The risks are high, but the potential is huge. Now is the best time to go forward with our project in order to ride the mass 3D wave that is only just starting now."
Vadim Sukhomlinov, strategic business development manager, Intel
"The 3D scanning market is growing. Expensive professional devices are giving way to consumer versions and manufacturers are already planning to make tablets and smartphones with 3D cameras built in. There are a growing number of application developers for 3D scanning, 3D object manipulation and 3D printing. GeoCV developers have created a technology that ensures high quality 3D images and their compatibility with color images taken by an ordinary camera. It allows neighboring shots to be 'glued together' to acquire more precise characteristics of a particular object. Its use for indoor scanning is quite viable. There are scanning tools already available on the market, however, they are expensive, require special equipment and do not always provide high-quality information on textures. In that respect, a GeoCV solution that ensures photorealistic quality of 3D models combined with the low cost of equipment and services has good prospects on the global market."
All rights reserved by Rossiyskaya Gazeta.