Russian Startup Rating announces top 50 startups of 2014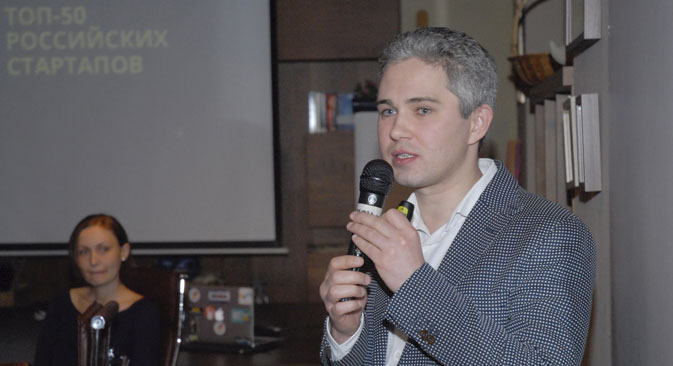 RSR's founder Renat Garipov: "Next year, 2015, might not be the best for Russian startups given the current economic situation." Source: Press Photo
This year's list of the top 50 Russian startups as identified by Russian Startup Rating was released on Dec. 8. The best projects were selected from among 1,600 applicants.
Russian Startup Rating (RSR) announced the year's top 50 Russian teams and developments with the most potential at an event on Dec. 8. The rating was presented Moscow's Culinarion, one of the largest culinary studios in Europe.
Over 50 top experts and representatives of leading venture funds, tech companies, and development institutions were consulted in the process of compiling the rating. Among them were Kaspersky Lab Russia, Intel, Microsoft, Helsinki Ventures, PwC, Russian Venture Company, the Technology Transfer Center at the Russian Academy of Sciences, Rusnano, and many others.
More than 1,600 projects competed to make it into the rating this year. Any startup could submit an application; there were only two criteria: the company must be younger than six years old and have no more than 120 employees.
RSR announced the year's top 50 Russian startups. Source: Press Photo
Startups were separated into three categories: Hi-Tech (new materials and equipment), BioMedTech (biotechnology and medicine), and IT/Internet/Mobile. Russia Beyond the Headlines has been the project's information sponsor since 2012.
RSR's founder Renat Garipov said that the number of applicants for this year's rating was significantly higher – there were only 800 participants in 2013.
"Next year, 2015, might not be the best for Russian startups given the current economic situation, but that simply means the strong will become stronger, while the weak will have an even more difficult time. RSR has big goals and challenges for next year. We will do everything possible to fulfill them and support Russian startups both in terms of introducing them to investors and in terms of media support," Garipov said.
RSR is a service that assesses the potential of Russian startups. The project aims to develop the ecosystem for technological entrepreneurship in Russia. RSR identifies promising developments that are not well known to investors or the broader public in Russia and abroad, be it due to their geographic location or the characteristics of the product.
The rating was compiled based on an evaluation of the information in the application and the opinions of industry experts. The key criteria were the characteristics and prospects for each individual product, its relevance, its market niche, and the team's qualifications.
Among other interesting startups, this year's rating included Brain Target, a startup that visualizes and measures brain tumors and monitors their dynamics; online consultancy LiveTex; a service for automating small businesses called FreshOffice; GeoCV, an app that creates 3D models of buildings; and Piligrim XXI, an augmented reality technology.
All rights reserved by Rossiyskaya Gazeta.