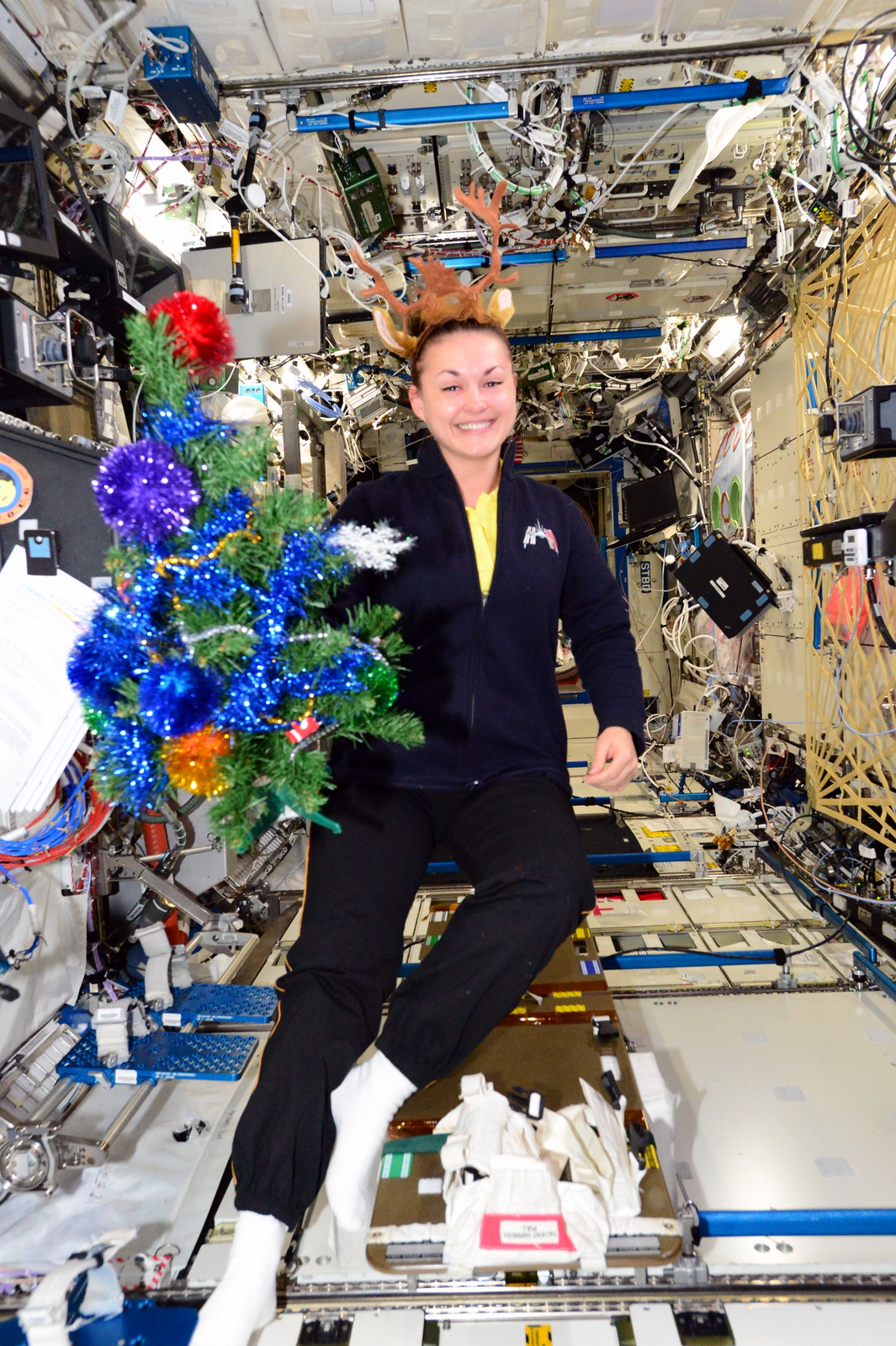 Elena Serova. Source: Federalspace.ru
Elena Serova is the fourth Russian woman in space, where she will spend 170 days. She is accompanied onboard the ISS by five other people – Italian Samantha Cristoforetti, NASA astronauts Terry Virts and Barry Wilmore and Russians Alexander Samokutyaev and Anton Shkaplerov. Elena keeps a blog and we present to you some of the top extracts below.
Apples in orbit
In November Serova decided to conduct a spontaneous experiment and germinate apple seeds in zero gravity. The apple tree – in other words, its germ – is now two months old. Here is what Elena wrote about her experiment:
12.11.2014
"The greatest delicacy in orbit is ordinary fruit,such as apples. They are what inspired me to try this experiment. I remembered that my colleague Maksim Suraev managed to grow wheat during the last expedition, so I thought, 'why not try to germinate apple seeds?'I was curious! And look what came of it… Maybe one day apple trees will blossom on Mars!"
Will it be the first 'space' apple tree? Source: Federalspace.ru
Programming experimental satellites
In January 2015 teams of high school and university students from around the world will compete in a Sphere robot-programming contest. These robots will imitate satellites, meaning that students will be able to conduct remote research on the ISS. Here is how Elena and her colleagues are preparing for the competition:
17.12.2014
"Samantha Cristoforetti and I recently trained to work on the Spheres. It is aZero Robotics experiment that involves programming experimental Sphere satellites in zero gravity. Today we ran various tests with the Sphere satellites.
Spheres identify their location and move in space relative to one another and according to the given programs. This project will let students take on the role of algorithm developers and Sphere robot operators, which imitate satellites.
The ISS has held competitions for programming experimental Sphere satellites several times. Teams of students write software that lets Sphere robots complete various tasks in zero gravity, whether it be avoiding space debris or docking with the spacecraft… the tasks are different every year.
In January, the guys will monitor implementation by the apparatuses by video connection and we will monitor the progress of events."
Elena Serova (left) with Samantha Cristoforetti. Source: Federalspace.ru
The heart and eyes of a cosmonaut
06.11.2014
"Studying the cardiovascular system of cosmonauts onboard during flight has always been a priority in the program. It is aimed at researching how microgravity influences a person's body. Our crew is working on several cosmic cardiology experiments.One of them is called 'Biocard.' This experiment studies the heart's bioelectric activity when exposed to negative pressure around the lower body. The research is conducted using a 'Centaur' suit, which as a rule is used to train cosmonauts before landing.
Another experiment that Maksim Suraev and I are currently working on is called 'Virtual.' The main subject of the research is a cosmonaut's eyes, which are the most vulnerable organs in zero gravity. Eyes have a difficult time adjusting in space and are particularly susceptible to radiation.
There is a helmet with a protective mask, which has a set of mirrors and infrared lights that illuminate the eye. Two video cameras record the movement of the pupils and the computer records the experimental process."
Elena Serova. Source: Federalspace.ru
Spacewalking
27.10.2014
"The 40th spacewalk as part ofthe Russian ISS program went well. My colleagues are great – Maksim and Alexander handled their tasks ahead of schedule and returned to the station two hours early. And they managed not only to perform the regularphotographing of the ISS' surface, but also got pictures of me in the window."
Cosmonauts in orbit. Source: Federalspace.ru
"At the time, Barry Wilmore and I were supporting our colleagues in the Poisk mini-research module."
Serova in the window. Source: Federalspace.ru
The rest of the ISS crew arrives
Samantha Cristoforetti, Terry Virts and Anton Shkaplerov arrived on the ISS at the end of November. Here is what Elena writes about their arrival:
The ISS crew. Source: Federalspace.ru
28.11.2014
"Of course, the main event of the week was the arrival of our colleagues – Anton, Samantha and Terry. We were waiting for them impatiently.After all, when there are only three people on the ISS, it feels empty. Now active 'air traffic' has resumed at the station and work is proceeding apace. The new crew isdoing maintenance and we are actively helping them while continuing to work on our experiments.
Today I am publishing a small photo report on Soyuz's approach to the station and our first photographs together."
Soyuz's approach to the ISS. Source: Federalspace.ru
Holidays in orbit
Judging by Serova's blog entries, the crewmembers started to celebrate in orbit back at the beginning of December, when American astronaut Terry Virts had their birthday.
08.12.2014
"The last week has been filled not only with work, but with positive energy. It started with the celebration of our American colleague Terry Virts' birthday."
The celebration of Terry Virts' birthday. Source: Federalspace.ru
"There were gifts, a lot of 'happy birthday'greetings, and, of course, a celebratory dinner. Over the weekend we started preparing for other upcoming holidays – Christmas and New Year."
All rights reserved by Rossiyskaya Gazeta.