Google will close its development center, but increase investment in Russia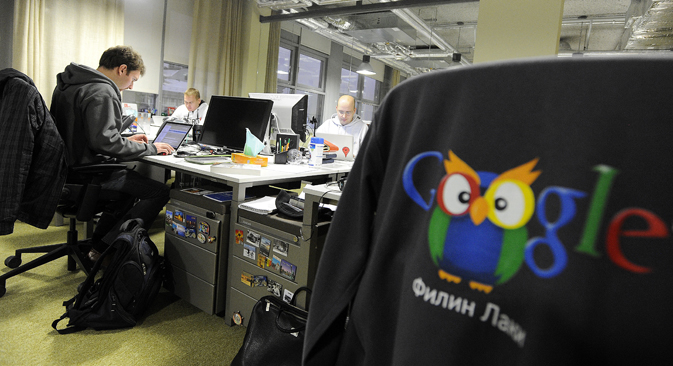 Source: Aleksey Filippov / TASS
Yandex, Google's main competitor in Russia, is concerned that the U.S. giant's decision to close its engineering center in Russia may have a negative impact on the development of the country's IT industry.
In early December 2014 Google announced that it would be closing its engineering center in Russia. At the same time, the company plans to increase its investment in Russia in 2015. Its staff has been offered transfers to the company's offices in other countries.
The internet giant's decision is believed to be linked to the new law on personal data that will come into effect in Russia in September 2015. Under it, companies are required to store Russians' personal data inside the country. Experts polled by RBTH do not believe that the new law is the main reason behind Google's decision to move. Nevertheless, the growing pressure the Russian authorities are putting on the internet sector is making companies wary of doing business in Russia.
Economic reasons or political retreat?
Google's Russian office has confirmed the decision to close down the software development center, but stressed that the company has no intention of abandoning its users and clients in Russia. They will continue to be served by the company's technical maintenance unit and commercial and marketing departments. Furthermore, the internet giant intends to increase investment in Russia in 2015.
Alexei Lukatsky, a business consultant in information security with Cisco Systems, says that Google's decision is largely driven by economic reasons. "Developers have nothing to do with transferring users' personal data to anybody," Lukatsky says. "It is just that with the economic crisis unfolding in Russia, it makes more sense for Google to keep its programmers abroad. The law on personal data is not likely to be applied to all internet companies, but particularly to those that are reluctant to cooperate with Russian authorities and provide information at their request. These companies include Google, as well as Facebook and Twitter."
Luxoft, a major software developer, already decided to shut down its engineering center in Russia, while Adobe's representative office scaled down its operations. It moved to an online sales model, as did Photoshop, with both companies switching to cloud technologies. In November, Microsoft closed its Skype office in Zelenograd outside of Moscow and invited its programmers to move to the company's branch in Prague, stating it needs to cut costs.
"Failed to agree"
Alexandra Kulikova, a coordinator at the PIR Center's Global Internet Governance and International Information Security Program, attributes the IT companies' decisions to "a drop in the country's overall investment attractiveness." Additionally, big foreign internet companies have not succeeded in finding common ground with the authorities. "Representatives of Google, Facebook and Twitter have had more than one meeting with Russian regulator Roskomnadzor to discuss personal data storage," Kulikova says. She suggested that no solutions were offered in response to the regulator's challenges.
According to Lukatsky, there are three possible scenarios for foreign internet companies in Russia after the law on personal data comes into effect in September 2015. "The first is that they will move their servers to Russia," Lukatsky says. "The second is that they will see how the law will be implemented and decide how serious it is. The third is that they will quit the Russian market, as was the case with Yahoo in Vietnam when the country's authorities told the company to move Vietnamese users' data inside the country.
Experts are in agreement that the closure of Google's development center will have no impact on the quality of the company's products. This is because, irrespective of where its programmers are working from, the company creates not a local, but a global internet product.
Competitive advantage or weakening of the market?
It would seem that the scaling down of foreign companies' operations would create competitive advantages for Yandex and Mail.Ru. However, the Yandex press service told RBTH that the company was not pleased that its main competitor on the Russian market, Google, is closing its development office as it may have a negative effect on the number of developers in Russia and on the IT sector in general. "The more software developers there are in country, irrespective of which company they are working for, the better it is for the sector and for the country," a Yandex spokesperson said.
Yandex is actively investing in training computer programmers and is developing its own educational programs at the computer science department at the Higher School of Economics. "After they complete their studies there, not all graduates come to work for Yandex. Many go to Google or Facebook, which is a normal practice and is good for the IT industry," the company's press service said.
Journalist Anton Nosik, a public figure and a popular blogger, believes that the situation developing in Russia will make it increasingly difficult for companies like Yandex and Mail.Ru to recruit and retain staff for its offices in Russia. "They too will start expanding production outside the country," Nosik said.
The law on personal data has had an impact on Yandex's operations as well. One of the company's data processing centers is situated in Finland. After the new law comes into effect, that office will be used to process and store data of foreign users only. Yandex has always stored Russian users' data primarily on servers inside the country, the company said.
All rights reserved by Rossiyskaya Gazeta.