How startups can teach Russians to economize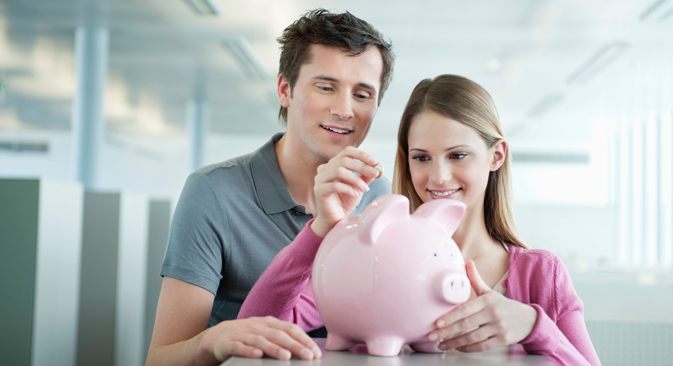 How would you save your monet? Source: Alamy / Legion Media
During economic crises Russians tend to save everything. Recently launched internet projects can help companies spend less.
According to the Russian Public Opinion Research Center, in the fourth quarter of 2014 56 percent of the population has been limiting its spending as much as possible and 21 percent said that it started cutting back on expenses only recently. By comparison, at the end of 2012 only 13 percent of Russians were trying to save money. Now the creators of services that help optimize family budgets believe their time has come.
Renting instead of buying
First of all, consumers are decreasing their purchases of items for "one-time" use. That is why Arkady Meshkovsky, founder of the Rentmania internet service, is convinced that rental services will be in demand. Rentmania helps private individuals share their goods. For example, one can rent sports equipment, appliances and electronic devices, tools, clothes and toys. Registered users place 10-20 new rental proposals on the site daily and about five of them result in a transaction, Meshkovsky says.
Source: Press Photo
Neovent, the company that owns Rentmania, earns a 20-percent commission from each payment, which for now is taken only from the rental companies.
The Arendorium Company owned by Alexander Olekhnovich and Andrei Scherbovich also does not recommend buying unnecessary items. This internet service, which aggregates proposals from various rental companies, was established in 2012. Arendorium takes a 15-percent commission from each transaction. Currently, it has 150 registered clients that have posted at least one announcement. Approximately 80 percent of them are rental companies, with the rest being private individuals.
Source: Press Photo
Arendorium plans to merge with supply companies. In the words of Scherbovich, it is still difficult to say if interest among Russians in joint consumption has increased, since the "crisis has just begun."
Moscow State University Economics School graduates Yelena Shabusova and Olga Lobanova created a book rental service in 2013 called FriendsBook. The company offers a subscription to rent a certain number of books a year or an unlimited amount in three, six or twelve-month plans. Costs for the service range from $15 to $120 (990 to 7,500 rubles according to the January 13 exchange rate).
It is possible to receive or exchange books at the FriendsBook partner points or through a courier for an additional cost. Currently, books can be exchanged at 70 mini-press markets in Moscow. The FriendsBook catalogue contains more than 100,000 titles and the company has more than 5,000 users. Roughly 95 percent of the readers are from Moscow or St. Petersburg.
Click here to enlarge the infographics: What do people read?

The clients' accounts are linked to their bankcards. Shabusova says that one book has a payoff term of 3-4 reads and that book's lifetime is about 12-14 reads. "Users read everything that they can buy in bookstores, only three times as cheap, and later they don't have to keep the books," explains Shabusova.
An assistant for optimizing expenses
Alexander Voloschyuk and Vitaly Kuliev created the Dr. Tariff service believing that there will be a demand for services that accurately calculate expenses. Voloschyuk remembers an instance when he woke up "with zero credit on the telephone." He spent a substantial amount of time trying to understand where the money had gone and realized that he had to change the tariff plan. From this the idea of a service that could analyze a user's telephone activities, compare the telephone company's tariff plans and choose the most appropriate one, was born.
Dr. Tariff's beta version went on the market in November 2012. It helped users select a tariff plan from one of the three major telephone companies in 20 Russian regions. A year later the service had more than 120,000 downloads. At that point investors became interested in developing the service.
Today Dr. Tariff analyzes expenses and user activities, keeps track of the user's funds (which can be added directly from the application), helps users receive notifications about additional options and money removed from the account, informs them about bonuses and recommends new money-saving options. The information is compared with the telephone companies' tariff plans, which are refreshed in the application every two weeks. The service maintains that users can save up to 30 percent off their monthly telephone expenses.
Dr. Tariff has more than 500,000 users, with 200,000 of them using the service every month. The company's revenues range from $4,000 to $15,000 a month (300,000 to one million rubles). The project began turning a profit in October 2014.
First published in Russian in RBC Daily.
All rights reserved by Rossiyskaya Gazeta.