Economic crisis in Russia lowers prices for space tourism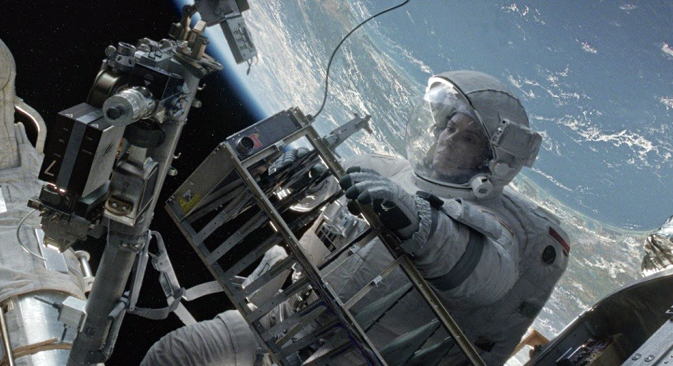 A screenshot from Gravity movie. Source: Kinopoisk.ru
The Russian space tourism company may change the price it charges tourists for tickets to outer space. It had originally planned to offer a five-minute experience in zero gravity for $200,000-$250,000 per person.
The economic crisis and the falling ruble have forced Russian space startups to reconsider their plans. Pavel Pushkin, who runs private space tourism company KosmoKurs, told RBTH that his company might reduce prices for tickets to outer space, which currently run from $200,000-$250,000.
KosmoKurs set that price in fall 2014 after researching the international market and analyzing global market supply. Tickets are already being bought, despite the fact that testing is not even scheduled to start until 2018 and the first tourist will not have liftoff until at least 2020. According to Pushkin, China offers the best market prospects for the space travel industry.
Five minutes in zero gravity
KosmoKurs plans to send about 7,000 tourists to space in its first decade of operations, which translates to half of the space tourism market. The ticket price includes training, five minutes in zero gravity, a commemorative video proving the tourist went to space and possibly even a space suit.
Pushkin explained that the short stay in space has to do with safety requirements. "We wouldn't want to send tourists any higher because they might come into contact with small cosmic ray particles," the KosmoKurs chief said. A five-minute interval is the standard amount of time used by the majority of the world's space startups. Richard Branson's Virgin Galactic, a British commercial spaceflight company within the Virgin Group, only gives tourists three or four minutes in zero gravity, added Pushkin.
According to experts, the key problem with space tourism is that space startups cannot guarantee complete safety. For example, a Virgin Galactic spaceship crashed during a test flight in October 2014, killing one of the pilots.
"What happened with Branson's space ship is a tragedy, but unfortunately I should note that it is not rare for prototypes to crash at the test stage," said Alexei Belyakov, vice president and executive director of the Skolkovo Foundation's space technology and telecommunications cluster. "All developers carry such risks. However, a lot of space startups, including Virgin Galactic, use a glide slope landing system, which takes quite a long time and is technologically complex. KosmoKurs will send tourists on a rocket and bring the capsule back down using a parachute system. That method was perfected on Soviet aircraft and is considered the safest in Russia."
How will tourists get to space?
However, KosmoKurs poses higher risks than its better-known counterparts. "I should note that the company is at a much earlier stage in creating its prototype, while its international competitors have already reached the test stage," Belyakov said.
KosmoKurs is developing a suborbital reusable complex that can deliver a tourist capsule to orbit. The carrier rocket will run on alcohol and use liquid oxygen as an oxidizer.
The company currently has about eight employees, including specialists who were involved in building the reusable Buran complex and the Angara carrier rocket. All of KosmoKurs' partners and suppliers are based in Russia, which according to Pushkin will give the company "a reasonable combination of cost, ergonomic characteristics and reliability."
Until recently, space tourism was a luxury available only to billionaires. Two-week practice missions to the International Space Station are currently under way. British opera singer Sarah Brightman will go into orbit in October 2015. Her training started in January and will include nine months of practical and theoretical classes. Canadian billionaire Guy Laliberte, founder of Cirque du Soleil, has already been to space, as has American millionaire video game developer Richard Garriott.
A two-week space flight costs $30-50 million on average, so it comes as no surprise that the $250,000 price tag is appealing to potential space tourists of more modest means. Some 900 tickets have already been booked through space startups. Due to the short flight time, tourists will not have to adapt to zero gravity and then readjust to Earth's gravity.
All rights reserved by Rossiyskaya Gazeta.