Programmer from Siberia defeats Google and debt collectors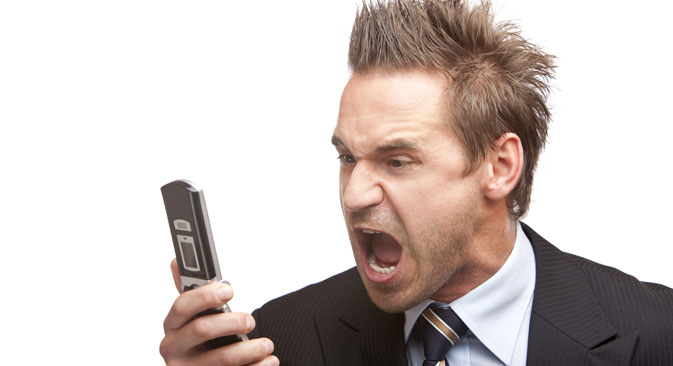 Anticollector blocks telephone numbers in the database from being able to call or send texts to telephones that have installed the application. Source: PhotoXPress
A Russian application, which blocks calls and texts from debt collectors, has been reactivated on Google Play thanks to lawyers from New York.
A few lawyers from New York have helped reactivate an application by Yevgeny Pyatkovsky from Novosibirsk (2000 miles east of Moscow) on the app store Google Play, the developer told RBTH. "Anticollector," as it's known, blocks calls and texts from "loan enforcers." It was removed from Google Play on Jan. 27, but just two days later the application appeared again on the app store.
According to Pyatkovsky, the lawyers found him on social network and offered to help. "On the night of Jan. 28 we had talks on Skype with 15 people participating," Pyatkovsky told RBTH. "They told me that it would cost about $350 an hour to fight Google in court. However, for free they sent some kind of note to their head office in the U.S., and as a result the application was restored."
Pyatkovsky, who considers himself an amateur programmer, created the free application Anticollector for Android in 2014 even before the economic crisis began to affect Russians.
The app has been downloaded more than 100,000 times. Source: Press Photo
The developer succeeded in collecting the telephone numbers of more than 6,000 debt collectors into a database. Anticollector blocks telephone numbers in the database from being able to call or send texts to telephones that have installed the application.
Any user of the app can add new numbers to the database, but Pyatkovsky checks them personally to ensure that ordinary people are not affected.
The app has been downloaded more than 100,000 times. Yet, on Jan. 27 it disappeared from Google Play. The company informed the developer that his access was suspended "due to the violation of conditions of applications for Google or the terms of service for a particular product," without specifying the specific conditions that had been violated.
Pyatkovsky suspects that the real reason was a complaint from debt collectors. A representative of the National Association of Professional Collection Agencies told the Kommersant newspaper that the association appealed to Google with a request to remove the program.
Why is protection needed from the collectors?
According to the National Bureau of Credit Histories, in Russia 12 percent of loans of all kinds are currently overdue. Collection agencies purchase debts from banks and get people to pay up, mainly by using psychological pressure on the phone.
Pyatkovsky became an opponent of such activities and decided to fight, because in his opinion innocent people are often the ones that have to deal with such calls. For example, an 11 year-old schoolgirl jumped out of the window of a 10 story building in St. Petersburg in summer 2014.
Her family lived in an apartment that had previously been owned by a debt defaulter and debt collectors constantly called the home telephone number. In a note to her parents the girl wrote, "Run, get away! We owe them 83,000 rubles" (about $2500 at the time of her death).
Pyatkovsky personally was an accidental victim of collectors. His mother-in-law bought a new SIM card that had belonged to a debtor. Collectors started calling with conditions and threats. They did not respond to explanations or attempts to persuade, so Pyatkovsky decided to put his programming skills back to work.
All rights reserved by Rossiyskaya Gazeta.