Global emergency response services show an interest in GLONASS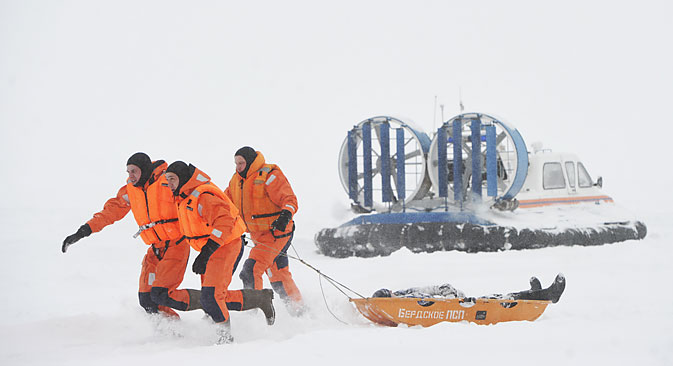 Source: Eugene Kurskov/TASS
Thanks to its effective performance in northern latitudes, including Alaska, the Russian satellite navigation system GLONASS may become a key element in an international rescue network.
At the end of January 2015 several major IT industry players in the U.S. proposed using the Russian satellite navigation system GLONASS for 911 emergency services. The proposal came from several major providers, including Verizon, T-Mobile and AT&T Mobile. They believe that the system could establish the coordinates of an emergency call more accurately than what is available today.
In an urban environment this is possible only with the joint use of two satellite navigation systems. If GLONASS were to be used alongside the U.S.'s GPS system, it would be possible to locate a person calling 911 with an accuracy range of less than 10 meters.
Is GLONASS better for Alaska?
Russian analysts point out that the satellite navigation system is likely to have advantages in the north, such as in Alaska. In these areas GPS performs with less accuracy due to the lower orbits of its satellites. "GLONASS satellites have a bigger orbital inclination, 64.8 degrees against 55 for GPS, which makes it more accurate," says VTB24 analyst Oleg Dushin.
Dushin is convinced that using both systems would offer more benefits when searching for a target in an urban environment. In an open space, U.S. rescue services can cope quite well with GPS alone, while Russian ones perform such searches adequately with GLONASS. The situation is different in big cities though, where using both systems together could bring better results. "This could help in locating a signal in dense urban conditions, in the so-called 'canyon situation,' especially inside buildings and far away from windows," Dushin adds.
Although they may be unaware of it, most mobile phone owners are already using GLONASS, says Alexander Panin, managing director of the FOK-GIS consulting company: "Back in 2011, Apple fitted iPhone 4S with a chipset supporting the GLONASS signal," Panin told RBTH. "The company's developers realized that it was more reliable to use both GPS and GLONASS simultaneously. Once this principle is implemented, two main problems of positioning systems are resolved: errors in establishing location and possible technical glitches. Apple was followed by other major mobile phone manufacturers, such as Samsung, Nokia and Motorola."
A market with huge potential
The U.S. is not the first international partner to show an interest in GLONASS. Back in 2011, the Swedish company Swepos, which operates a support system for satellite positioning, said that GLONASS had advantages in higher latitudes. That is why 90 percent of its clients use GLONASS together with GPS.
Options for expanding cooperation with China in this sphere are also on the table. In early February 2015, satellite navigation experts met in Beijing to discuss cooperation and agreed to harmonize the standards of the Russian and Chinese satellite navigation systems. "We want the Europe-China transport corridor to have transport safety systems with compatible standards along its whole route," said Yevgeny Belyanko, vice-president of the Non-Commercial Partnership for Development and Use of Navigation Technologies (GLONASS Union). According to him, that would result on the one hand in an upgrade in safety for users and on the other, a huge market for technologies as well as ready goods and services, which will secure the long-term development of the Russian and Chinese satellite systems.
Will there be a GLONASS era?
In Russia itself, the use of navigation systems for these purposes is still rather limited. The state-run ERA-GLONASS accident emergency response system was put into operation only on Jan. 1, 2015. Its purpose is to summon emergency services when a vehicle is involved in an accident.
The system will reduce the time it takes information to reach emergency services after a car accident. According to Russian experts, by reducing arrival times to the scene by 30 percent, the system will be able to save about 4,000 additional people every year. To make this happen, each vehicle will have to be fitted with an ERA-GLONASS terminal, which will operate free of charge for the entire service life of the vehicle. Starting from Jan. 1, 2017, all vehicles made on the territory of the Eurasian Customs Union will be fitted with these terminals. Calls can be made automatically or manually.
For the time being, the application of ERA-GLONASS is restricted to vehicles and road traffic. However, proposals are being considered to technologically and functionally develop the system to make it relevant for other areas of safety and security.
All rights reserved by Rossiyskaya Gazeta.