A 3D pen using safe ink is developed in Siberia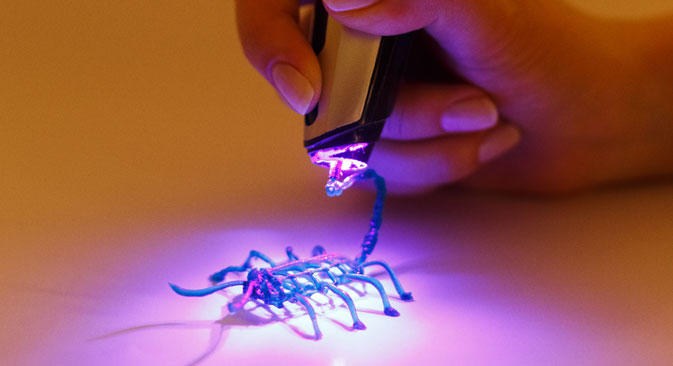 A new CreoPop printing pen is filled with a fundamentally new photopolymer ink that hardens when exposed to ultraviolet light. The device runs on battery power, is non-toxic and avoids limitations inherent in other 3D pens. Roughly 35 countries have already taken interest in the new device, which will hit the market in April 2015.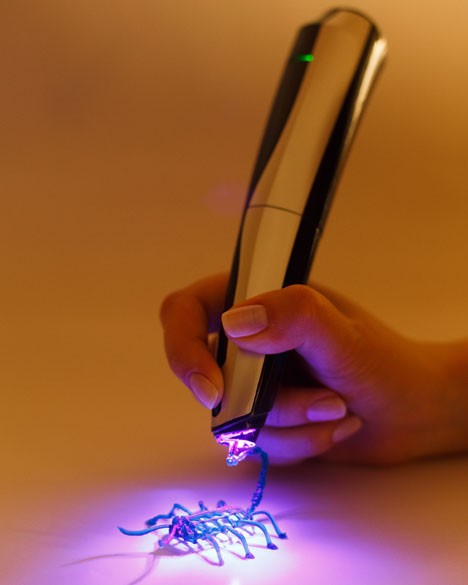 3D pen in work. Source: Press Photo
A team of developers from Tomsk – Siberia's oldest scientific and innovation center – has created a 3D pen that uses photopolymer ink that hardens under the influence of an inbuilt UV source in the form of a bright LED diode.
Developed on the basis of liquid photosensitive resin, the ink allows the pen to avoid the major drawback of its analogs - heat - making it safe for children. Using such a pen, one can draw three-dimensional objects, create magnetic, glow-in-the-dark shapes and use it for 3D design and in metallurgy.
The developers have created more than 50 types of inks, including luminescent, magnetic, rubber, elastic, aromatic, current-conducting and temperature-sensitive inks. Each ink capsule is good for 14 meters of three-millimeter thick strands.
How it developed
"There are 3D pens that use plastic already on the market, but they heat up and melt," Dmitry Starodubtsev, who heads the company that developed the device, told RBTH. "We decided to find a technology that would allow us to make a pen that does not get hot. Eventually, our chemists found such an elegant solution."
The device immediately sparked interest among fans of 3D modeling and professionals around the world, with most orders coming from the U.S. and Europe. "Less than one percent of customers come from Russia," Starodubtsev said.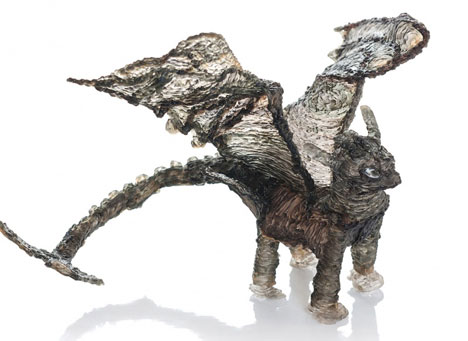 A dragon 'drawn' with the 3D pen. Source: Press Photo
To develop the photopolymer ink technology, the team applied for support in late 2013 from the Tomsk Regional Engineering Center.
"Experts have confirmed that the project is interesting both from a business standpoint and from the point of view of development of the region, and that it is worthy of being funded," Tomsk Regional Engineering Center (TREC) head Mikhail Golovatov told RBTH.
TREC helped the team to pay 3.1 out of 3.6 million rubles for the engineering service.
International interest
The developers invested $250,000 and also attracted $892,000 from a pool of investors led by 500 Startups, a business incubator in Silicon Valley.
The production of the new-generation pen has been launched in the Chinese city of Shenzhen, where the plant that previously produced alternative pens is located. The plan is to keep the production of ink in Tomsk. Sales of the pen will begin in April 2015 at an expected price of $119.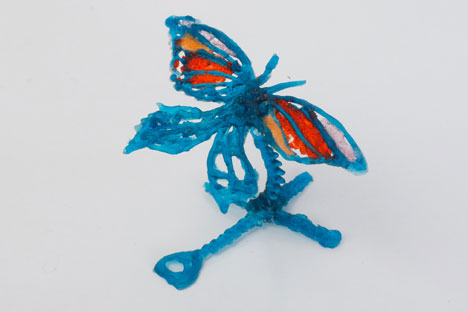 A butterfly made with the 3D pen. Source: Press Photo
"The market of gadgets is growing very rapidly right now," Golovatov said. "Significantly, the Tomsk developers used a crowdfunding platform and scored about 200 participants in the first month and about 2,000 participants in the next three months, even though the product was not yet commercially available. This shows there is a good potential for the commercialization of the pen."
According to Golovatov, Russian manufacturers have underestimated the market for gadgets. "They are influenced by a tradition that says that anything serious should be big," he says. "We make missiles, tanks, ships and machine tools. However, it is the small devices for the average user that are widely commercialized in the world today."
Read more:
Moscow State University graduates plan a 3D revolution
A pair of Russian developers has created an application that projects navigation information onto the inside of a car windshield, improving road safety in conditions of poor visibility
All rights reserved by Rossiyskaya Gazeta.