New protest monitoring system will track Facebook and Twitter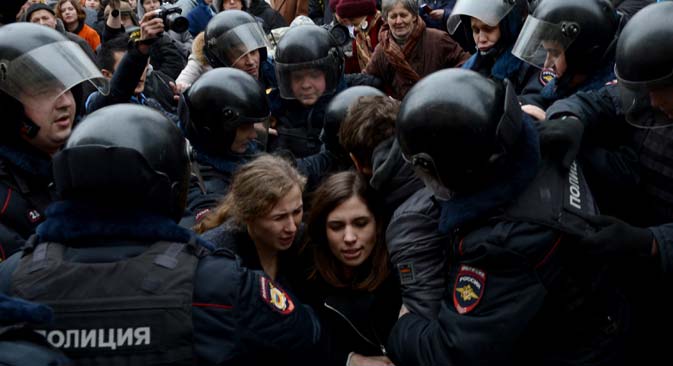 Activists protest Bolotnaya Case verdict outside the court in Moscow, 2014. Source: TASS
A system that monitors political protest groups was launched in Russia in May 2015. For now it is only monitoring the local social network VKontakte, but the program will begin analyzing Twitter and Facebook posts in September of this year.
A new protest monitoring system was launched in Russia on May 18, 2015. It is called Laplace's Demon, in honor of Pierre-Simon Laplace's 19th century mathematical experiment. The system's author is scientist Evgeny Venedictov, the director of the Center for Research on Legitimacy and Political Protest. Venedictov does not hide the fact that his creation was inspired by the mass protests and armed clashes that occurred in Kiev, Ukraine in 2013-2014 that resulted in the change of the country's government.
Many likes - people on the streets
According to its developers, the system's potential users are scientists and law enforcement agencies. But Laplace's Demon is already of interest to the protest groups themselves. "A guy wrote to me introducing himself as an investigator," says Venedictov. "But I checked in the social networks and discovered that he himself organizes protests."
Venedictov does not plan on commercializing the technology or give open access to his monitoring system, which was tested recently. The program can only monitor certain groups and user pages, with volunteers compiling the information into a single database. In upcoming months the system will track the VKontakte Russian social network and in September 2015 it will tackle Twitter and then LiveJournal and Facebook.
"Twitter is the leader of protest activity for Russian-language users," explains Venedictov. "Unlike VKontakte, it does not react to the requests of Roskomnadzor (the organ responsible for monitoring and controlling mass media - editor's note) to delete messages and does not delete posts that are of an 'extremist nature.'"
In Venedictov's words, the system tracks the users' "behavioral anomalies," such as the number of likes and comments under the posts. "There is research that shows that the growth of protests and demonstrations is accompanied by an increase of these indicators," remarks Venedictov.
The appearance of the new system has already puzzled representatives of Russian protest groups. "We don't need to be monitored, we are transparent and are ready for dialogue," says Anna Stepanova, president of the Nizhny Novgorod Regional Branch of the Republican Party of Russia - the People's Freedom Party. "Monitoring is some kind of one-sided connection. The government forces people to take to the streets and provokes an open clash instead of settling things that can be resolved peacefully."
Who will use the Demon?
There are other indicators that the new monitoring system takes into consideration. Venedictov says that when the algorithms were created in his research center, developers used studies produced by Russian mathematicians. Their results show that people are more likely go to a demonstration if they know someone there, much more than if they just communicate on a social network with someone.
"For example, 80 percent of the online groups associated with the Right Sector in Ukraine (a far-right nationalist political party in Ukraine - editor's note) know each other," Venedictov explains. "In the Russian social networks this indicator is much lower: 15-20 percent. The more people using the social networks know each other personally, the greater their interaction will be in reality."
The system will monitor three types of groups: politically oriented ones, social protest groups and local discussion platforms that unite users based on geography. Russian authorities have monitored such groups before. Experts say that until recently they had used programs such as Semantic Archive to assist in the monitoring process.
"The presidential and ministerial administrations have their own systems and Venedictov is only trying to enter this lucrative market," argues Andrei Soldatov, editor of the Agentura.ru site, which specializes in intelligence services. However, the existing programs were developed for monitoring structural information, such as mass media announcements. To track social media content the system has to be relatively small and configured for concrete objectives.
"Initially my goal was exclusively scientific: I was studying the political process," states Venedictov. "But now I understand that the project can be useful for society." For now Laplace's Demon is not at all linked to the government, but according to its creator, the Russian authorities have already shown interest in the system.
All rights reserved by Rossiyskaya Gazeta.