Which professions will be in demand in 15-20 years?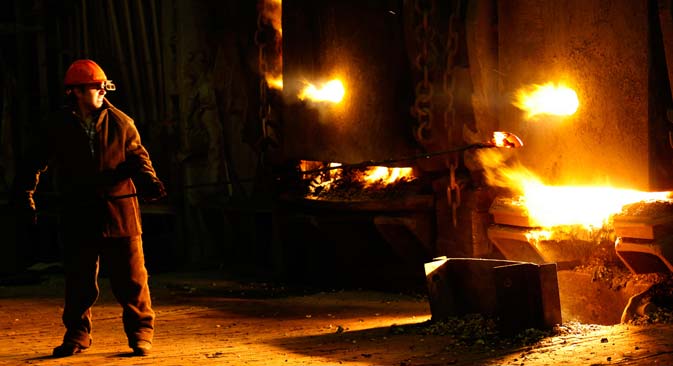 The foundry of the Petrostal metallurgical works incorporated in the Kirovsky Zavod machine building plant. Source: Alexei Danichev / RIA Novosti
By 2020 hundreds of new professions, including "systems bio-technician," "meteo-energy specialist," "urban planner ecologist" and others, will have replaced outmoded jobs that were prevalent in the 20th and early 21st centuries.
In April 2015 the Russian Agency of Strategic Initiatives (ASI) released the second edition of the Atlas of Future Professions, a list of specializations that will be in demand in the country's economy in the next 15-20 years. The Russian method of predicting future professions has officially been accepted by the International Labor Organization.
ASI, established in 2011 by the Russian government, is a non-profit organization whose aim as stated on the official website is to "create opportunities for the self-realization of young ambitious leaders."
The atlas includes more than 200 professions in 25 fields, as well as necessary future competencies and the universities that will offer a basic education for these fields. The list also features predictions of the type of employers and professions that will begin disappearing within the next five years.
According to Pavel Lushka, the project's author and a professor at the Skolkovo Moscow School of Management, similar atlases exist in other countries, such as Canada and Brazil, but the Russian index, in terms of the number of professions listed, is the most comprehensive one.
Lushka said that the atlas was compiled by more than 4,000 leaders in 25 fields that "take part in the strategy development process of their companies" and "understand the development map of their fields." Among the future professions on the list are "virtual lawyer," "construction eco-analyst," "household work designer," "healthy attire expert" and dozens of other specializations that have not yet appeared on the Russian market.
However, Lushka remarked that not all of these professions will be needed in other countries since "the demand for professions is determined by the fact that each country's economy and training system has its own pattern of development."
Outmoded professions
Professions that will be retired by 2020 include accountant, surveyor, credit manager, statistician, stenographer, copywriter, corrector, photo editor, librarian, lector, tour agent and tester.
Professions that will retire after 2020 include legal consultant, notary public, tour guide, analyst, journalist, sports commentator, secretary, translator, logistician, diagnostician, systems administrator, dispatcher, navigator and pharmacist.
"For example, in Germany industry is switching to fully automated production, which adjusts itself," Lushka said. "And they have their own process of developing specialists that are needed for this fully automated production. For Russia or Brazil these professions still have no relevance."
Another example according to Lushka is that of the medical institutions marketing specialist. "In Russia the share of private medicine is extremely small and there are practically no private clinic networks when compared to industrially developed countries," he says. "However, in the U.S. this profession has existed for decades now."
At the root of the method used in compiling the Russian Professions Atlas lies "foresight," a social technology that helps participants make a joint prediction of the development of the professional fields, regions and countries and then use the prediction to decide which actions should be taken in order to achieve the desired outcome.
Professions of the future
A smart roads builder is a specialist that selects and installs adaptable road surfaces, layouts and road signs with radiofrequency identification, surveillance systems and sensors for verifying the condition of the road.
A construction eco-analyst is a specialist that analyzes a construction plan with an eye to its impact on ecology and consults with companies on the selection of the least hazardous solutions for building in a given environment.
A household work designer is a specialist that develops and programs household work performed by such laborers as a robot-babysitter, a robot-cleaner, a robot-washer, a robot-gardener or a robot-dog walker.
A systems bio-technician is a specialist that replaces old solutions in various fields with new products in the biotechnology field. For example, this expert could help transportation companies change from diesel to bio fuel and construction companies in introducing new biomaterials to replace cement and concrete.
A meteo-energy specialist is a professional that optimizes the use of power generating systems in certain climactic conditions. This specialist predicts the level of energy production using long-term weather forecasts.
An urban planner ecologist designs new cities based on ecological biotechnologies. This specialist works in the fields of construction, energy and pollution control. This profession is already in demand. High technology "green cities" are being designed and built in Malaysia, China, the United Arab Emirates, India, South Korea and several European countries.
A territory architect is a specialist that creates information landscapes for tourists with respect to the region's reality, consumer types and popular destinations.
A science artist is a professional that in their creative activity utilizes scientific data and knowledge. Science-art is not only practiced by independent artists, but is also supported by major educational institutes, such as MIT, which has a Science, Art and Technology Center.
A game master is a specialist in the development and organization of educational games (business, historical, fantasy, etc.) and in the use of simulators in games.
All rights reserved by Rossiyskaya Gazeta.