Skolkovo initiative could give new boost to Russian startups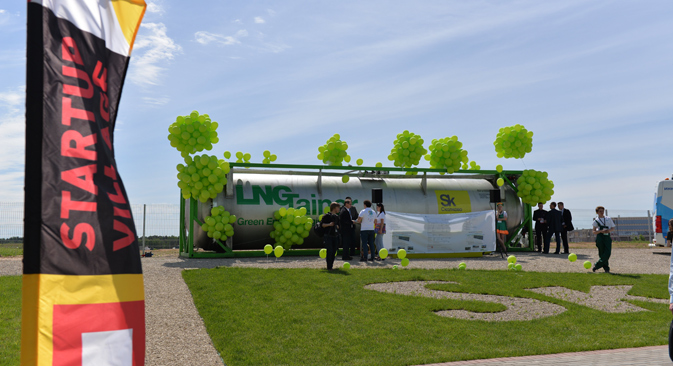 On June 2-3, 2015 a major event was held at the Startup Village at Skolkovo Innovation Center in Moscow. The initiative has the potential to stimulate the development of Russia's startup environment.
Russia's startup entrepreneurs look set to benefit from the backing of Moscow's Skolkovo Innovation Center, following a large-scale event recently held by the organization at its Startup Village.
Over the course of two days the Startup Village greeted more than 10,000 participants: Russian and foreign entrepreneurs, investors, venture fund representatives and government officials. The event was an unprecedented one in Russia, where the innovation ecosystem began developing only a few years ago. The Startup Village was the grand finale of a road show of Russian development institutions. Throughout the year, as part of the Startup Tour, they have been looking for the best innovation ideas in 12 Russian cities.
"The startup environment has just begun in Russia - we are witnessing its birth," says Alexei Sitnikov, vice president of the Skolkovo Institute of Science and Technology (Skoltech), a joint project between the Skolkovo Foundation and MIT. In 2015, during the course of the Startup Village event, Skoltech held its first graduation. More than 70 percent of its students established their own companies during their period of studies.
"What makes a startup land in Russia?"
Experts at the Startup Village recommended that companies think "globally," and not orient themselves exclusively towards import substitution. Skolkovo Foundation's Vice President Vasily Belov stated that 89 Skolkovo resident-companies currently sell their products abroad.
"Just a few years ago Russia did not have a startup environment or infrastructure for their development," claimed Sitnikov. "Often the technologies that Russian companies offer are the best of their kind. The only question is whether or not they can be commercialized abroad."
Today Russian startup companies have an enormous selection of platforms for their development. At the Startup Village techno park representatives from Spain, Turkey, Singapore, Japan, the U.S. and many other countries spoke about their opportunities. Before entering foreign markets "it is important to get a strong foundation in your own country," said Susanne Burkeholder, director of the Huston Technology Center, one of Skolkovo's partners.
"What makes a startup land in Russia?" Burkeholder remarks. "It is the support system, which Skolkovo definitely has. The innovation center's collaborators have a very high level of competency. Something unique is developing here. Therefore Russia is an excellent place to establish a company."
In search of investors and partners
Over 1,000 investors from all over the world registered at the Startup Village conference. On the first day alone 14 agreements were signed with a total value of 13 billion rubles. This amount tallies only the largest agreements, including those with giants such as Alibaba Express and Panasonic. Smaller deals took place on the sidelines, sometimes even during the startups' pitch sessions.
"Do you understand that to test your antitumor apparatus and then try to enter a market, you will need to invest much, much more?" a jury member asked a representative of a regional startup that presented their idea at the Biomed competition. There were some questions from the audience. Then an intellectual property consultant from a large Korean company stood up and asked: "How much do you need for your development?" The representative said $10,000. It was in such an informal atmosphere that potential deals were hashed out.
Approximately 350 teams participated in a competition to attract investments for their projects. A total of 26 startups made it to the final round and there were three winners. The Graviton project won first place, which offers sensors for security systems. The Tektum project came in second place, a product offering a hemostatic device. The bronze medal was given to RealTarget, a new immunotherapy method for treating oncological disease.
Is technology outside the realm of politics?
The main obstacle for Russian startups today is the economic sanctions and the political environment. According to a Finnish participant, many Finnish companies that were interested in Russian startups and wanted to enter the Russian market had to postpone their expansion. The 40 foreign diplomats visiting Startup Village all seemed to agree that, technology should stay "outside of politics."
American Ambassador John Tefft reminded everyone that half a dozen of large American companies, including Microsoft, IBM and Boeing, are among the innovation center's partners. French Ambassador to Russia Jean-Maurice Ripert, who was clearly disappointed by the absence of French cheese at the food court, talked about the participation of French architects in the creation of Skolkovo's architectural image.
"We like to do business with people here," said Burkeholder. "I think that bilateral relations are happening here. They happen between companies, they happen between people. There are some things to overcome, but I think we'll just keep moving forward."
All rights reserved by Rossiyskaya Gazeta.