Sino-Russian nuclear physics research center to be set up in Siberia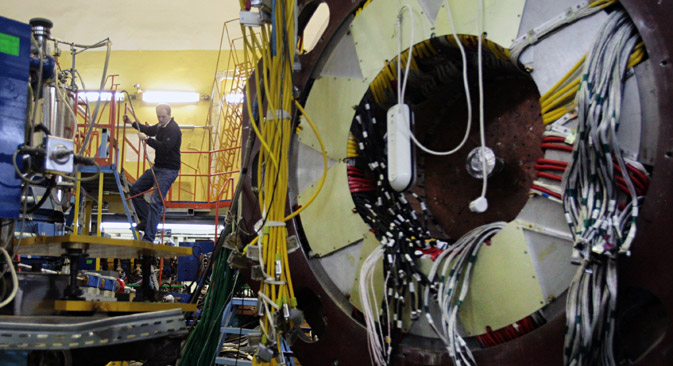 The research center will be set up in the university town of Akademgorodok, near Novosibirsk. Russia is keen to expand scientific cooperation with its BRICS peers.
A Russian-Chinese Research Center will be set up at the Institute of Nuclear Physics in Akademgorodok, near Novosibirsk, the Federal Agency of Scientific Organizations (FANO) said on June 9.
"The center will be FANO's first mega-science project in the region," the agency said in the press note. "The purpose of the program is to expand scientific cooperation between Russia and the BRICS countries."
The press note cited Russian Presidential aide Andrei Fursenko, who was Russia's Minister of Education and Science in 2004-2014, as saying that the government is ready to allocate funding for non-conventional projects, which have prospects both from the scientific and commercial point of view.
FANO is an executive body, whose functions include legal regulation and management of the property of research organizations in Russia, including the Russian Academy of Sciences. The body was created as part of the reform of the Academy in 2013.
According to Fursenko, the small university town near Novosibirsk was chosen as the site for a new large-scale project in nuclear physics due to its geographical location. Novosibirsk, one of Siberia's largest cities, is located at the heart of Russia, near the border with China and Mongolia. The presidential aide said this would help "effectively develop cooperation with China" in this field.
FANO noted that China is actively moving towards collider physics and is preparing to launch two programs that claim to be important projects of the future. One of them calls for the creation of a Higgs Boson factory, before the one at the European Organization for Nuclear Research (CERN) is ready. The second project concerns the construction of an accelerator for studying collisions between beams of electrons and positrons.
"The Russian side has significant competency in the field of high energy physics, and the necessary infrastructure, which may become part of a joint Russian-Chinese center," FANO said.
The Institute of Nuclear Physics at Akademgorodok of is one of the world's leading centers for a variety of high-energy and accelerator physics as well as plasma and controlled thermonuclear fusion physics.
The institute carries out large-scale experiments in elementary particle physics, as well as designs modern accelerators.
Based on reports first published in Russian by TASSand RIA Novosti
All rights reserved by Rossiyskaya Gazeta.