Female Far Eastern leopard 'dances' on camera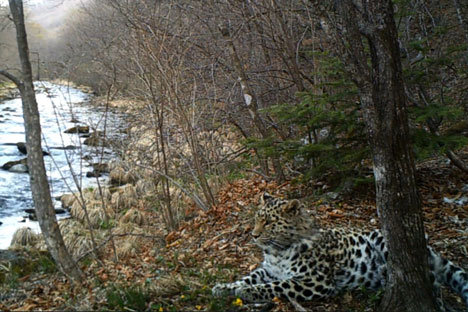 Source: Youtube / the Land of Leopard
A video camera at the Land of Leopard National Park captured the planet's rarest big cat – a female Far Eastern (Amur) leopard – in action. According to estimates by the nonprofit organization Far Eastern Leopard, which studies this leopard population, only 50 of these large felines remain in the world.
The female Beri played for a few hours in front of the camera like a household kitten. There are practical benefits in the dance: when a cat rubs up against a tree, it leaves olfactory marks, which serve as signals for male leopards.

A report by the national park noted that at a young age Beri participated in a reality show about a family of Far Eastern leopards. As a young kitten, she injured her foot and many viewers were concerned about her fate. "On the screen, this same kitten has now turned into a beauty worthy of the title of Miss Land of the Leopard 2015," says Vasily Solkin, the reality show's director and the head of Public Relations at the World Wildlife Fund Russia Amur branch.
Scientists have noted that the playful behavior of this "girl" is unusual, since it is usually demonstrated by male cats. Most likely this is due to young Beri's age; it is thought that she is about 2.5 years old.
"The first thing that pleased the scientists as they watched the video is that we see a healthy cheerful cat," said Anna Vitkalova, the head of the Department of Science at the Land of the Leopard National Park.
The world's remaining Amur leopards that live in the wild can only be found in southwestern Primorye Region. The Land of the Leopard National Park was created in 2012 to preserve and restore the population of this endangered predator.
All rights reserved by Rossiyskaya Gazeta.