Russian rockets to put Internet payloads into orbit in global broadband space race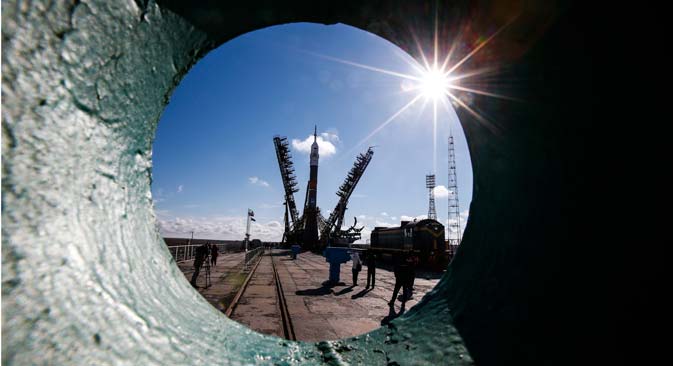 Some of the satellites will be launched using Soyuz cargo ships from launch sites at Kourou in French Guiana and Baikonur Cosmodrome in Kazakhstan (on the photo). Source: Sergei Ilnitsky / EPA
In a billion dollar boost to Russia's national space agency, Roscosmos, Soyuz launch rockets will put hundreds of light-weight satellites into orbit over the next five years to help bring Internet access to people in ever corner of the planet.
The $1billion deal with OneWeb and launch service operator Arianespace will see 648 micro-satellites placed in near-Earth orbit by 2019. Russian Soyuz rockets will carry many of the small 150 kg modules.
The project - which also involves Airbus, Coca-Cola and Virgin Group - is driven by an urge to make the earth a global Internet village, with super fast broadband access available everywhere, from the most remote mountain communities to the vast steppes of Mongolia. Backers also include Indian group Bhari Enterprises.
In an intensely competitive race to connect the world, OneWeb has stolen the march on Google and Facebook, which both also said they would bring the Internet to developing countries.
Historic deal
The OneWeb project involves the deployment of solar-powered routers to receive signals from the micro-satellites. The company also plans to provide mobile Internet access to ships, airplanes, trains and oil platforms.
Some of the satellites will be launched using Soyuz cargo ships from launch sites at Kourou in French Guiana and Baikonur Cosmodrome in Kazakhstan. From 2017 to 2018, Russia will provide 21 rockets, while Richard Branson, head of Virgin Galactic, promised another 39.
If all the launches go smoothly, the contract allows for at least five additional Soyuz launches after 2020, Roscosmos says.
"This contract is the largest in the history of the provision of launch services," agency head, Igor Komarov said to Interfax.
"And the choice of the carrier rocket Soyuz is evidence of the high competitiveness of Russian rocket and space technology."
The deal could help drive the development of launch infrastructure in Russia, he added, where there was a "need for the commissioning of the new spaceport Vostochny," currently under construction Russia's Far East Amur region.
A total of 900 micro-satellites will be built to fully implement the ambitious global project, the first ten of which will be assembled at a Airbus Defence and Space (ADS) plant in Toulouse, France. The rest will be put together in the U.S. at a factory run by OneWeb and ADS as a joint venture. Each satellite will cost $500,000 and weigh less than 150 kg. Conventional communication satellites cost $250 million and weigh around half a tonne.
Russian rockets
"The dream of fully bridging the digital divide is on track to be a reality by 2019," says Greg Wyler, founder of OneWeb. "We have the key elements in place: regulatory, technology, launches, satellites, as well as commercial operators in over 50 countries and territories. We are committed to solving one of the world's biggest problems — enabling affordable broadband Internet access for everyone."
Neither international sanctions against Russia nor recent launch failures and accidents within the Russian rocket industry - the latest last April when a Soyuz rocket exploded shortly after a Baikonur launch - prevented the deal.
Experts say there is a simple reason - the scale of the project. "They simply had no other choice," Ivan Moiseyev, head of Russia's Space Policy Institute told RBTH.
"They need to launch a huge number of satellites in a short timeframe. Soyuz is the most famous and mass-produced rocket on the market."
Moiseyev recalled that one of the most recent accidents – involving Mexican satellite MexSat-1 – occurred due to a failure of the launch vehicle Proton-M, while the Soyuz remains largely reliable.
"Of course, Soyuz has had problems, too, but Roscosmos is working hard to finalize modifications," he added.
Moiseyev says the contract came just in time, as the Russian space industry desperately needs modernization and additional funds to ensure that both its rockets and launch infrastructure are brought up to date.
All rights reserved by Rossiyskaya Gazeta.