Roscosmos: Can new company modernize Russian space industry?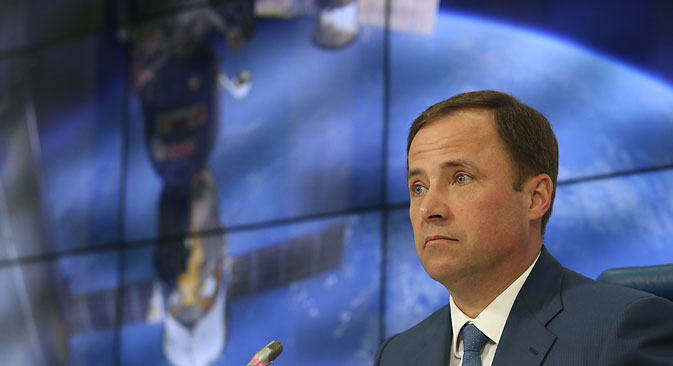 The head of Roscosmos Igor Komarov. Source: Artem Korotaev / TASS
Details about Roscosmos, Russia's new state space corporation, were revealed on July 7. A law adopted on July 1 is intended to help with the space industry's reform. However, experts fear that the corporation may be inefficient in the long run.
Little was known until recently about the new state corporation Roscosmos, which is supposed to replace the existing agency and reform the country's space industry. The State Duma adopted a law establishing it on July 1, but industry representatives declined to comment until the law is approved by the president. Speaking at the Federation Council on July 7, the head of Roscosmos, Igor Komarov, answered a few questions.
According to Komarov Russian space enterprises should become joint-stock companies over the next five years. "To achieve this result, decisions have been made concerning the decentralization and the empowerment of Roscosmos with the authority to carry out effective reforms," Komarov said at the Federation Council meeting "The task was set up to ensure the transformation of more than 80 shareholding companies, design bureaus and research institutes into joint-stock companies in a short period of time."
During the next stage, the question of public-private partnerships and attracting private capital to the space industry will be discussed. The main emphasis will be placed on reducing budget expenditures for modernization through the implementation of export contracts. According to Komarov, the reform of the space industry will take up to 10 years.
However, experts are not certain that these measures can solve the systemic crisis in the Russian space industry. This situation has recently been discussed at the highest levels of government.
"The systemic crisis includes fundamental problems in the areas of public administration, economy, international cooperation, technology and others," Ivan Moiseyev, head of Russia's Space Policy Institute, told RBTH. "All of these problems should be overcome simultaneously." However, he believes that the foreign policy and domestic economic situation are presently unfavorable.
According to Moiseyev, the new state corporation will have to solve questions of economic modernization, productivity, technological modernization of both production lines and the products manufactured, as well as to introduce new quality control systems.
At the same time, state corporations represent a new form of enterprise for Russia, Moiseyev notes.
"They are characterized by combining the functions of a business entity and state regulations," Moiseyev says. "In the short run, a state corporation is capable of achieving results through the focusing of efforts, as well as having a single organizational and technical policy."
"But in the long term, such a form becomes inefficient," Moiseyev concludes. "Specifically, this is due to the monopolization of the scope of its responsibility and its slow response to changing situations."
All rights reserved by Rossiyskaya Gazeta.