Will BRICS join forces to explore outer space?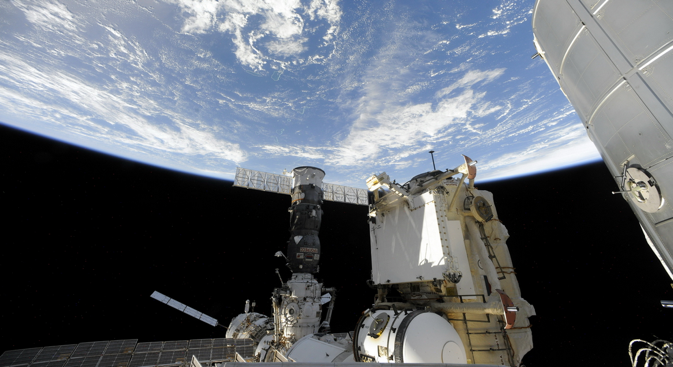 The creation of a BRICS international space station is still out of the question. Source: Roscosmos
In July the BRICS countries signed an agreement to cooperate in space exploration. This partnership is primarily driven by commercial necessity.
At the BRICS Summit in Ufa in July, the leaders of member states agreed to "actively engage in the joint application of space technologies, satellite navigation, including GLONASS and BeiDou, as well as the latest achievements in space science." RBTH tried to figure out what lies behind this decision, and what are the prospects for such cooperation.
Space for economic and defense purposes
Most experts feel that the potential for space cooperation between the five BRICS countries --- Brazil, Russia, India, China, and South Africa --- isn't a bright one. The five nations are very different economically and socially, and when we look at the beginning of the space age more than a half century ago, at that time each year saw major breakthroughs. Now, however, things are more complex, more expensive, and more time is required to make new advances, said Ivan Moiseyev, scientific director of the Moscow Space Club. For example, Europe's Rosetta space probe and NASA's interplanetary New Horizons probe took about 10 years to reach their targets.
According to Mr. Moiseyev, manned space flight, planetary exploration, and space telescopes bring no direct economic benefits. The main driving force behind these projects is mainly scientific interest in the study of the universe. Therefore, BRICS co-operation will be determined largely by commercial necessity.
"In the foreseeable future the partners in this block will develop projects in the field of applied astronautics; that is, the use of satellites for the needs of their economy and defense," says Mr. Moiseyev.
BRICS Space Station: utopia or a realistic possibility?
If the BRICS want to make a splash in the space sector, it will need serious and significant projects. The creation of a joint international space station, however, is out of the question, said Mr. Moiseyev. He mentioned that until 2025 Russia will focus on the International Space Station (ISS) , and China has plans to develop its own small space station by 2024. "The creation of another international space station is impossible because it would require far too much funding," said Mr. Moiseyev. "In addition, because of geographic peculiarities, an orbiting joint station would be uncomfortable for either China or Russia."
Other projects may be more promising. For example, Russia now seeks to replace Ukraine in a project with Brazil to build the launch vehicle, Cyclone-4. The plan called for this rocket to launch satellites into low and medium-height orbits around the Earth. Ukraine had promised to build a launch vehicle and a launch pad, and the first launch should have taken place in 2006, but this rocket was never built. This year, however, Brazilian authorities said they were ending their part in the project.
In late July, Russian Deputy Prime Minister Dmitry Rogozin offered Brazil various options for cooperation. "We already have several GLONASS stations in Brazil, and we have ideas on how to help Brazil to develop launch sites," said Mr Rogozin.
Joint projects: successful and not so successful
According to experts, the Chinese-Brazilian program to develop and launch satellites is the most successful program between the BRICS countries. In mid-July, a satellite to study the Earth's natural resources was launched, and credit for this joint success owes to cooperation between China's Institute of Space Technology and Brazil's Institute of Space Technology
Other joint programs haven't been so successful. For example, cooperation between Russia and China was tainted by an unsuccessful attempt to send a small Chinese spacecraft to Mars. And in 2013 cooperation on the joint Russian-Indian lunar exploration, Chandrayaan-2, was halted because Indian authorities said they would go it alone.
Cooperation is sometimes difficult because Russia and China are competitors in providing spacecraft launching services. "For Russia, developing countries present a very promising market, and China is very active here as well," said Mr. Moiseyev.
All rights reserved by Rossiyskaya Gazeta.